CAD software is usually used when creating industrial objects such as mechanical objects. On the other hand, some CAD software enables more artistic freedom as designs do not need to work mechanically, be functional or fit to a real world device. Historically, 3D modeling software has been used in film animations and video games to make organic designs. However, it can also be used to create 3D printable models.
FreeCAD
FreeCAD is a completely free parametric 3D modeling tool that is open-source and enables you to design real-life objects of any size. The parametric component makes editing easier. You can go to your model's history and change the parameters to get a different model. This software is not designed for professional purposes but is a good training tool. The options it offers are quite basic but a good starting point when you have no experience.
TinkerCAD
TinkerCAD an online 3D design app geared towards complete beginners coming from Autodesk. The software features an intuitive block-building concept, allowing you to develop models from a set of basic shapes. The online software comes with a library of millions of files that users can use to find shapes that suit them best and manipulate them as they wish. It also has a direct interaction with third party printing services. It is quite a simplistic program and will have limitations for some designs. However, it is aimed mostly at people with no experience whatsoever with 3D modelling.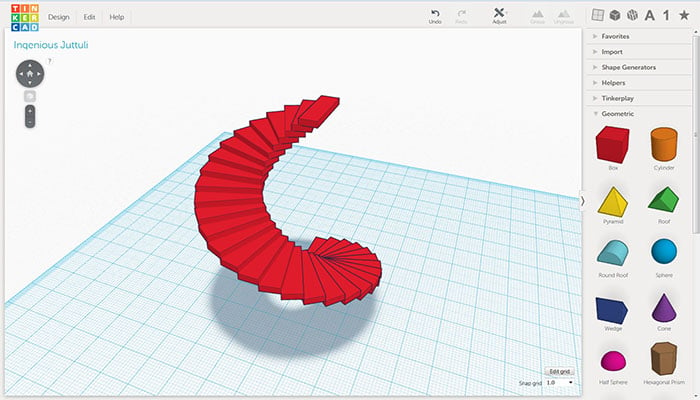 BlocksCAD
This 3D software is specifically created for educational purposes, its development is done so that anyone can later use OpenSCAD, a more professional CAD software. The commands for the development of the objects and their transformations are represented by colour blocks, reminiscent of the well-known construction toys, LEGO. BlocksCAD's code is fully compatible with OpenSCAD's so you can give your models the last touch up on there. Export formats can be OpenSCAD or STL. To make sure that anyone can learn to use the software, BlocksCAD has a Youtube channel with different tutorials on 3D modeling.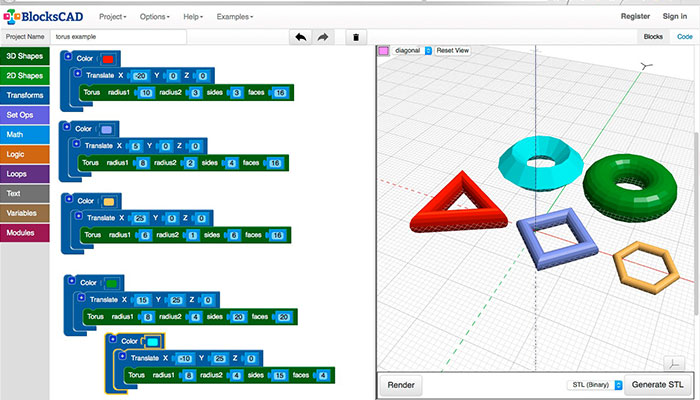 Fusion 360 | Student Free
Fusion 360 is a cloud-based 3D CAD program. It's unique in the sense that it uses the power of the could to bring together design teams to collaborate on complex projects. An advantage of the Fusion 360° platform is it stores the entire history of the model including all the changes. It contains numerous design options, including freeform, solid and mesh modeling. It operates on a monthly payment subscription basis. The developers also regularly update the features, making it better as new instalments come along. It runs on multiple platforms and allows users to access their information wherever they want. In i.materialise's poll in 2017, they noticed a jump in the program's popularity in the last two years. Many people have praised the software's professional capabilities and user-friendly interface and workflow.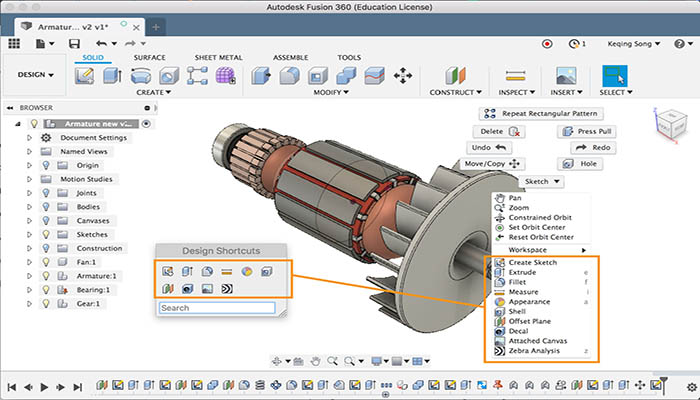 OpenSCAD
OpenSCAD is a free, open-source CAD software aimed at making solid 3D models. It is suitable for experienced users seeking a platform for an elaborated project. Also, given its Constructive Solid Geometry (CSG) and the Extrusion of 2D outlines, this software is intuitive for coders/programmers. It is great for simple shapes that are already parametrically defined. Since it is completely based on description language, the program will not be intuitive for everyone at all.