3D printing has been increasingly popular in these few years, 3D printing implants, 3D printing cars, 3D printing houses, these big projects seem to be too far away from us while surprising us. But this new technology is also quietly taking over our daily life, such as 3D printed chocolate, pancakes and coffee, 3D printed crystal carvings and baby embryos, and even the clothes and shoes we wear can be 3D printed. In this article, let's take a look at the application of fantastic 3D printing in shoes.
3D solutions
3D printing has been used for some time to realize various innovative footwear designs, both within sporting and fashion contexts .
Most commonly, 3D printed shoes feature a 3D printed midsole. The midsole is the part between the upper and the outsole, and is responsible for cushioning impacts – for example when running – to keep your feet in good condition. 3D printed midsoles, as we will see, can cut weight, cushion runners' feet better, and provide more strength in the shoe.
Abrasive resistance, high elasticity and shock absorption are the key assessment factors for 3D printing technology and 3D printing materials to enter into the field of footwear manufacturing. The advantages of complex manufacturing for 3D printing can realize the flexible lattices structure of the midsole, and new high-performance materials are now available on the market and particularly adapted to the creation of midsoles. The perfect example for that is TPU. Indeed, objects printed with TPU are offering advanced properties, which is perfect to get durable, strong, and flexible parts.
German sportswear giant Adidas has continued to use additive manufacturing to create unique, sustainable footwear. Just last year the company released the adidas 4DFWD, which was specifically created to improve athlete performance. According to the company 3D printing adds performance thanks to the lattice structure as well as adding a lot of flexibility to its activities, from reducing lead times to offering a shoe that could be completely customized at a reasonable price.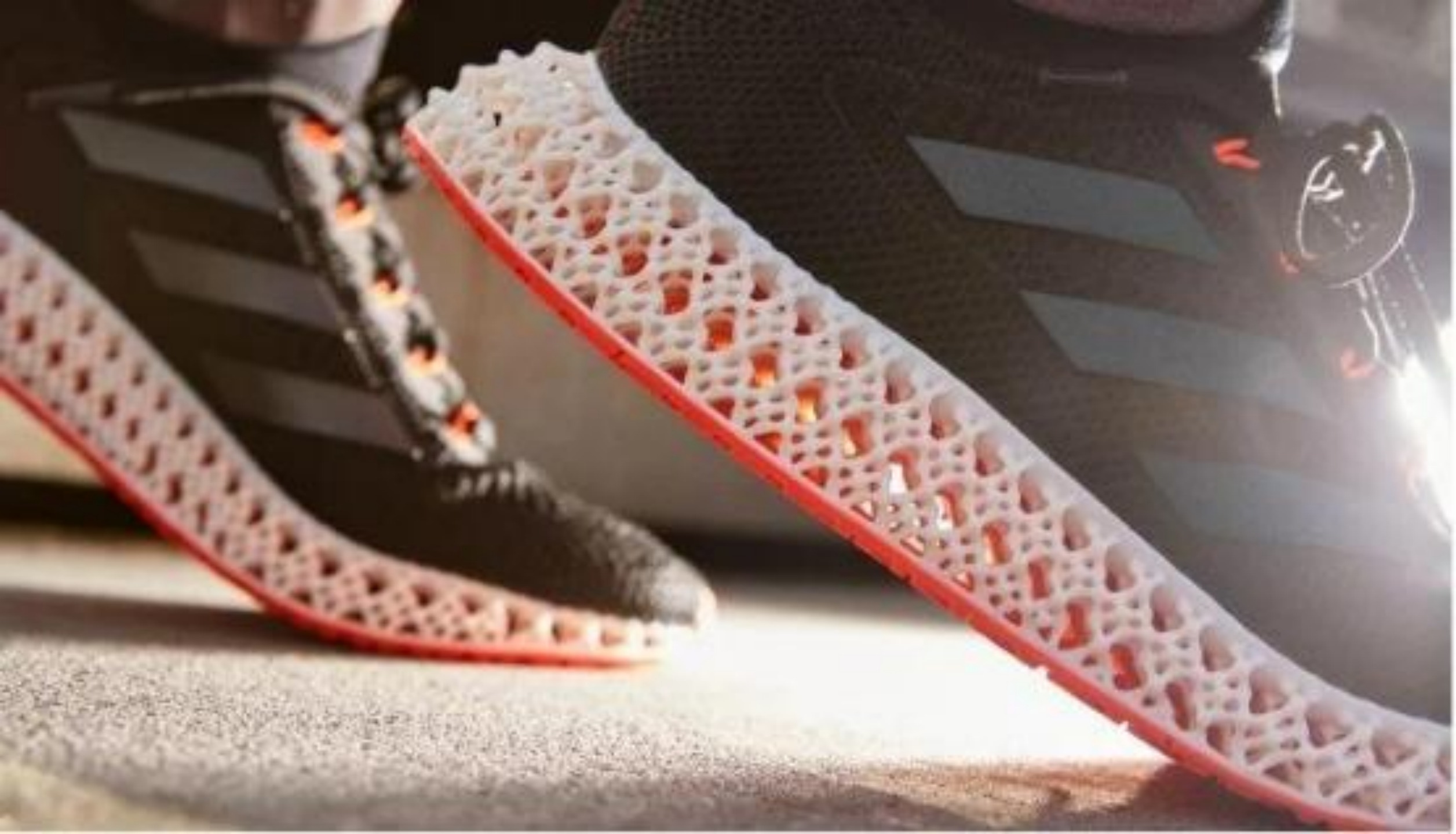 German designer and architect Stephan Henrich has designed and fully 3D printed a uniquely-designed shoe based on the feet of mythical creatures. The designer used flexible TPE material to create his unique mythical shoe design.
Advantages of 3D printing in shoes
Complete customization and Comfortable: 3D printed shoes are entirely customized to the person's feet: the 3D file is made from scanned data . The shoes can be created based on an individual's exact measurements, so they fit perfectly. People with thin or wide feet who struggle to find snug fits will especially enjoy the customization 3D printed shoes provide.
Innovative, intricate designs are now possible: Completely new and exciting designs can be created using 3D software with intricate parts that could not be made using traditional methods.
Custom materials: opens up more options for ambitious designers who want to bring new materials into shoe design.
Faster time to market: new iterations can be tweaked instantly based on feedback.
Easier low batch production for start ups: as companies like Wiivv and FUSED Footwear have shown, 3D printing means you can manufacture on-demand rather than investing in expensive production lines .
Sustainability & Eco-friendly: the 3D printing uses recyclable materials, no water and can reduce by 60% of carbon footprint. More over, there is no material waste. This helps address the environmental issues.