Once slow and expensive, 3D printing is now faster, cheaper, and more accessible. Gain insight into the cost and lead times of 3D printing at Unionfab.
Speed, Cost and Accessibility: Drastic Improvement Over Decades
How much it costs and how long it takes to 3D print your parts?
Well, the quick answer is always "it depends".
Calculating the precise time and cost for a 3D print involves factoring in many considerations, like the 3D printing technology used, the material selected, the part's size and complexity, any post-processing needs, and more.
Among these parameters, however, the epoch in which the print takes place is possibly the most impactful variable.
Technological advances are steadily shrinking the time and expense of 3D printing. Each year brings faster print speeds, higher availability, lower material costs, improved resolutions, and expanded capabilities. A print executed today would likely be quicker, cheaper, and higher quality than the same print not only decades ago, but also just a few years ago.
3D Printing Cost and Speed in the Late 1980s
If you wanted to 3D print something during the late 1980s — the dawn of 3D printing technology — the options would be very limited.
SLA-1— the world's first commercial 3D printer
Costs were extremely high – Early commercial 3D printers — using stereolithography technology — cost hundreds of thousands to millions of dollars. This put them out of reach of all but the largest corporations and research institutions. There are also very few 3D printing services existed, focused mainly on prototyping for big companies. It can be assumed that the cost is extremely high.
Materials were limited – The selection of printable materials was narrow, largely restricted to simple plastics like ABS. Metals were not an option then. With 3D printing itself being so expensive and specialized in the 1980s, material providers could charge a premium for 3D printing filaments, likely costing significantly more (probably 10-100 times more) in the 1980s compared to today.
Slow and poor resolution – 3D printing at that time was very slow and produced parts with low accuracy and resolution by today's standards. In the 1980s, a simple 3D part might take several hours or even days to print. Complex parts would take significantly longer. Printed parts had rough surfaces, poor dimensional accuracy and low strength due to the large layer heights (0.5 mm to 1 mm) of early 3D printers.
From 1990s Till Now: Cheaper and Faster
After the late 1980s, stereolithography was gradually being commercialized, and Fused deposition modeling (FDM) 3D printing was developed. Material options were expanding. In addition to resins and thermoplastics, material systems like wax and nylon powders were becoming available for some 3D printers.
Costs remained high, though. Desktop 3D printers in the 1990s could still cost over $50,000, making them inaccessible for most consumers. The range of compatible materials would also still be narrow.
In 2006, the first affordable desktop 3D printers started hitting the market in the low thousands of dollars. Material costs also dropped significantly, with PLA filament available for around $30-$50 per kg spool. Layer heights of 0.1 mm or finer started to become standard, improving surface finish and dimensional accuracy of printed parts. 3D printers improved their speeds significantly in the 2000s, especially FDM printers using multiple extruders.
Thanks to rapid technological advancements and economies of scale, 3D printers have become far more affordable and accessible in recent years. Entry-level 3D printers capable of producing decent quality prints can now be found for under $200.
Nowaday's industrial 3D printer (via Unionfab)
Today, anyone with access to the Internet can find affordable 3D printers, free and paid 3D model files, and helpful tips from a huge global community of 3D printing enthusiasts. This has made what was once a niche technology available to the masses, lowering the barriers to entry for almost any consumers interested in 3D printing.
From "Owning a Printer" to "Ordering Your Print"
From the 1980s to the mid 1990s, when the technology was still new and expensive, 3D printing was still very expensive and specialized, primarily used by large companies and research institutions. At that time, print-on-demand services were still very limited. If someone first learned about 3D printing during this time period, they may have assumed you needed to buy an expensive in-house printer to access the technology — owning a 3D printer in the 1980s cost upwards of $300,000. That is $1,100,000 in today's dollars.
An Affordable Printer for All
In 2005, in a vision to democratize 3D printing, Adrian Bowyer, a professor at the University of Bath in the UK, decided to create a 3D printer that could self-replicate by printing most of its own parts. He believed this could make 3D printing truly accessible to everyone.
The "child" RepRap machine was made by the "parent" RepRap on the left. This file is licensed under the Creative Commons Attribution-Share Alike 3.0 Unported license.
The open-source RepRap project was founded under this ambition. The name "RepRap" stands for "Replicating Rapid Prototyper," reflecting its ability to replicate itself by printing new parts. Many modern affordable 3D printers are based in part on RepRap's work.
The prices of consumer and desktop 3D printers have declined significantly over the past decade. As recently as 2014, commercial-grade printers still cost over $2,000. But by 2020, affordable and functional entry-level 3D printers became available for under $200.
The Advent of "Print on Demand" Service
Till the mid-1990s, the first commercial 3D printing service bureaus start to offer 3D printing services to customers beyond the initial industrial and research users. This marks the beginnings of the "print on demand" market:
Quickparts (founded in 1995) – Originally known as Rapid Parts, Quickparts is considered one of the earliest commercial 3D printing service bureaus. They offer rapid prototyping and low-volume manufacturing services.
i.materialise (founded in 1999) – Based in Belgium, i.materialise offers rapid prototyping, 3D scanning and 3D printing services across a wide range of materials.
Polymorph (founded in 2001) – Based in the UK, Polymorph provides rapid prototyping, manufacturing and design services, specializing in nylon and plastic parts.
Shapeways (founded in 2007) – Shapeways started as one of the first commercial platforms for 3D designing and printing, making it accessible for individuals and small businesses.
From the do-it-yourself spirit of RepRap's 3D printer kits to Shapeways' e-commerce platform for 3D printed goods, these companies represent the pioneering phase of the consumer 3D printing revolution that continues to this day. What started small has grown into a multibillion dollar industry, transforming how physical products are designed, made and sold.
Myth Busted: Is 3D Printing Cheaper and More Effective Than Conventional Manufacturing?
3D printing, also known as additive manufacturing (AM), has long been touted as a disruptive technology that could displace traditional manufacturing methods, which are largely subtractive in nature.
But a more realistic view is that 3D printing and conventional methods will continue to complement each other, each suited to different production volumes and cost requirements.
While 3D printing enables some unique capabilities, conventional manufacturing retains advantages for high-volume production. No one method is inherently "better."
3D printing – also known as additive manufacturing – excels at:
Rapid prototyping
Producing low volumes of complex, customized parts
Enabling design iterations and testing
Fabricating geometries difficult with conventional methods
But conventional manufacturing remains superior for:
High-volume production of functional parts
Lower costs per part at scale due to process optimizations
Higher precision, tolerance and mechanical properties
Ability to use a wider range of high-performance materials
The total cost of 3D printed parts remains roughly constant regardless of quantity. But conventional manufacturing costs decline significantly as production volumes increase, due to economies of scale.
Grapic from Wohlers Report 2023 – 3D Printing and Additive Manufacturing State of the Industry
This "cost-curve crossover" means:
For low part counts, 3D printing is often more cost-effective
At higher volumes, conventional fabrication typically becomes cheaper
The break-even point varies based on part complexity, materials, and other factors
Overall, 3D printing and conventional manufacturing differ more in their strengths rather than one being "better" in an absolute sense. Each excels at optimizing different factors like design flexibility, part quality, material options, and costs – depending on production needs.
3D printing's strength lies in producing parts with geometries that can be challenging, expensive or impossible to fabricate using conventional manufacturing techniques, such as parts with internal channels and latticed structures, and especially low-volume, high-complexity parts.
Estimate the Cost and Time of 3D Printing: Key Factors You Need to Consider
The more details you can provide about your part and preferred printing options, the more precise the final estimate will be. By understanding how each of these factors influences the time and cost of 3D printing your part, you will be able to work with vendors to get the most accurate quote possible for your specific requirements:
Part geometry – Complex designs with thin walls, overhangs, enclosed areas, etc. will take longer and cost more to print.
Material – Different materials have unique properties that affect printing speed and cost. Materials like metal powders are more expensive. Click to explore Unionfab's extensive selection of material options.
Metal costs more than resin
Surface finish – Polished or machined surfaces require additional finishing steps, increasing time and cost.
Part size – Larger parts take more material and longer to print, thereby costing more.
Delivery time – Shipping parts from overseas can take 1-2 weeks via regular air mail, or up to a week via expedited shipping methods. Expedited orders incur rush fees to accelerate production.
3D printing technology – Some processes (like PolyJet printing) are faster but more expensive while others are slower but cheaper.
Post-processing needs – Any polishing, assembly or machining adds to the time and cost.
Other manual requirements – 3D printing requires rigorous planning and preparation beyond simply "pressing a button" to print a part. Several key steps involve specialized knowledge, skills and expertise. For example, an experienced CAD designer can optimize models for features like strength, density and surface finish. Surface finishes often require manual sanding, machining or polishing to meet functional requirements.
Cost and Lead Times of 3D Printing at Unionfab
Unionfab offers professional 3D printing services, investing in a large fleet of printers and using a variety of technologies including SLA, SLS, SLM, and FDM. Customers rely on Unionfab for fast turnaround times and competitive pricing.
Technology
Material
Unit price ($/g)
SLA
Standard resin
$0.14
Somos Perform (260°C)
$1.30
Somos Taurus
$0.44
High Temp Red Resin (120°C)
$0.45
SLS
SLS-PA12 (white)
$0.25
SLS-TPU
$0.70
SLS-PA11
$0.69
SLM
Steel 316L
$0.40
Aluminum (Alsi10mg)
$0.60
Titanium (TC4)
$3.30
Maraging Steel
$0.52
FDM
ABS/ASA
$0.45
PC
$0.35
ULTEM 9085
$1.95
PETG
$0.20
Unionfab Material Unit Cost (example)
Unionfab lead time:
SLS Nylon: 3~4 days
SLA Resins: 2~3 days
SLM Metals: 5~7 days
FDM Thermoplastics: 3~5 days
Unionfab aims to provide cost-effective 3D printing for both prototypes and production parts. Customers can submit a free quote request to get an accurate price.
Get an accurate estimate of the time and cost of 3D printing your part with Unionfab's simple online tool.
---
FAQ
How to get a free quote for 3D printing at Unionfab?
Just follow these steps: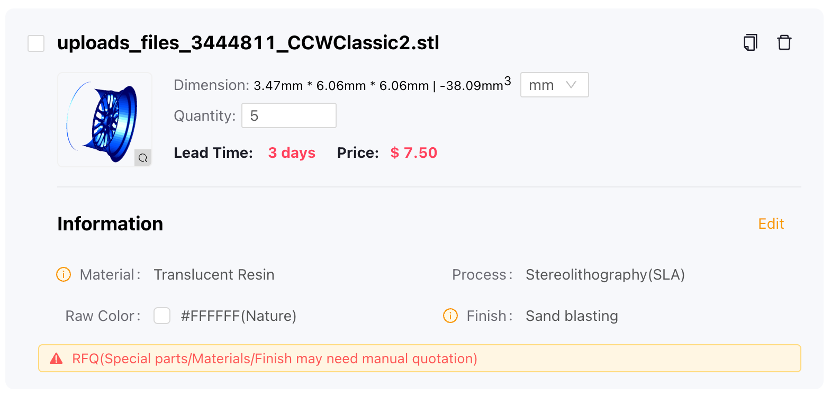 Upload your 3D file
Select the material you want to print in from options like nylon, stainless steel, aluminum alloys, etc.
Specify if you need a colored part
Choose your surface finish
The estimated price will automatically show up.
However, for a precise quote and confirmation of your order, please proceed to receive our engineer's feedback.
Once you approve the final quotation, Unionfab's in-house prototyping team will 3D print your part using the optimal technology for your requirements. Parts will be carefully inspected before shipping to ensure high quality.
Get started now by uploading your CAD file and having Unionfab generate an instant quote for 3D printing your part. You'll receive an accurate estimate of both the time and cost to print your part – all in just a few clicks.