3D printing allows automakers to easily offer customized vehicle interiors, exteriors and components to meet buyer preferences.
Introduction
The automotive industry is entering an era of mass personalization. Buyers increasingly expect unique products tailored to their exact preferences rather than settling for one-size-fits-all options.
3D printing has been used for many applications, such as prototyping, medical devices, art and fashion. But now, it is also being used to offer customized vehicle interiors, exteriors and components to meet buyer preferences.
Car Customization with 3D Printing: From Mass Production to Mass Personalization
For over a century, automotive manufacturing has centered around standardized mass production to achieve economies of scale. But consumer demand is shifting towards personalized products that reflect individual styles. 3D printing's ability to rapidly produce customized parts is enabling automakers to make this transition from mass production to mass personalization.
Car Exterior Customization with 3D Printing
3D printing offers an exciting avenue for exterior customization in the automotive world. From personalized wraps and unique body kits to custom badges and illuminated accessories, car owners can now express their individuality and style in new and innovative ways.
Exterior Appearance Customization
Customized Vehicle Wraps
3D Printing Method: Stereolithography (SLA), Digital Light Processing (DLP)
Material Used: Photopolymer Resin with Textured Finish
Vehicle wraps have become increasingly popular as a way to personalize the appearance of a car's exterior. With 3D printing technology, customizing vehicle wraps becomes even more creative and unique. Instead of traditional vinyl wraps, 3D printed wraps can add texture, depth, and intricate designs to the vehicle's surface. Owners can choose from a wide range of patterns, colors, and textures that suit their personality, making their vehicle stand out from the crowd.
Custom Emblems and Badges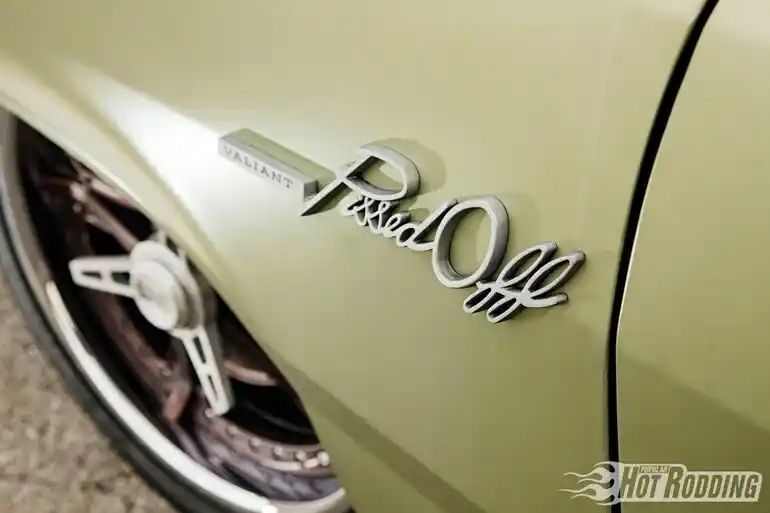 Source: motortrend.com
3D Printing Method: Selective Laser Melting (SLM)
Material Used: Stainless Steel or Titanium Alloy
With 3D printing, car owners can create custom emblems and badges that showcase their own logo, initials, or unique design. These custom badges can replace the standard manufacturer logos, adding a touch of exclusivity to the vehicle. Additionally, 3D printed badges can be made from various materials, including metallic-like finishes, giving them a premium appearance.
Illuminated Exterior Accessories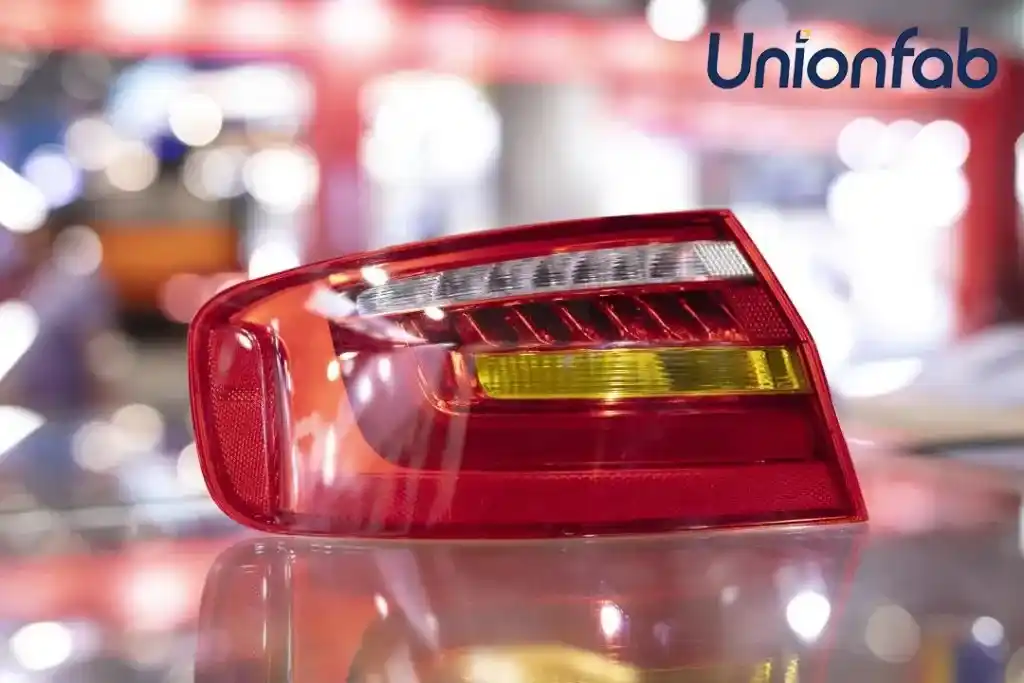 Resin Car Light. Source: Unionfab
3D Printing Method: Stereolithography (SLA)
Material Used: Translucent Resins and LED Inserts
For a distinctive look at night, 3D printing can be utilized to create illuminated exterior accessories. These can include illuminated door handle covers, custom light housings, or illuminated logo projections. Using LED lighting combined with 3D printed structures, these accessories can add a captivating and eye-catching element to the vehicle's exterior.
Performance Enhancements and Styling
3D Printed Bespoke Body Panels and Accessories
3D Printing Method: Fused Deposition Modeling (FDM)
Materials Used: Carbon Fiber Reinforced Polymer (CFRP) or High-Performance Thermoplastics
3D printing facilitates small batch production of tailored exterior components. This includes customized fenders, side skirts, spoilers and other body panels. Personalized exterior trim pieces like grilles, mirror caps, and light surrounds can also be printed on-demand.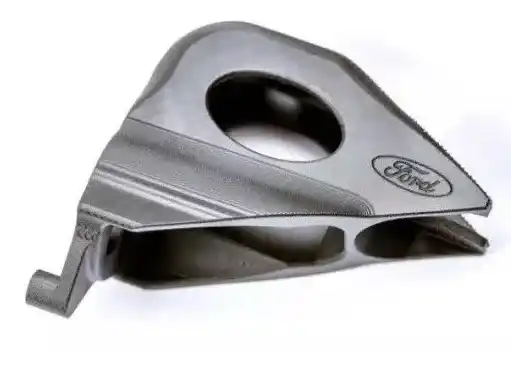 3D printed spoilers. Source: Carbon
For example, Ford has partnered with Carbon, a 3D printing company, to produce custom spoilers for its Mustang GT500 model. The spoilers are made of carbon fiber reinforced polymer (CFRP), which is lighter and stronger than conventional materials.
Tailored Roof Racks and Cargo Accessories
3D Printing Method: Selective Laser Sintering (SLS)
Material Used: Nylon or TPU (Thermoplastic Polyurethane)
Outdoor enthusiasts and travelers can benefit from 3D printed roof racks and cargo accessories. These customized solutions can be designed to fit the vehicle's roof dimensions perfectly, ensuring a secure and stylish way to carry additional gear, luggage, or sports equipment. Moreover, the roof racks can be personalized with custom designs or patterns to match the owner's preferences.
Car Interior Customization with 3D Printing
Vehicle interiors can be outfitted with components designed for an owner's style or ergonomic needs.
Customized Interior Trim Components: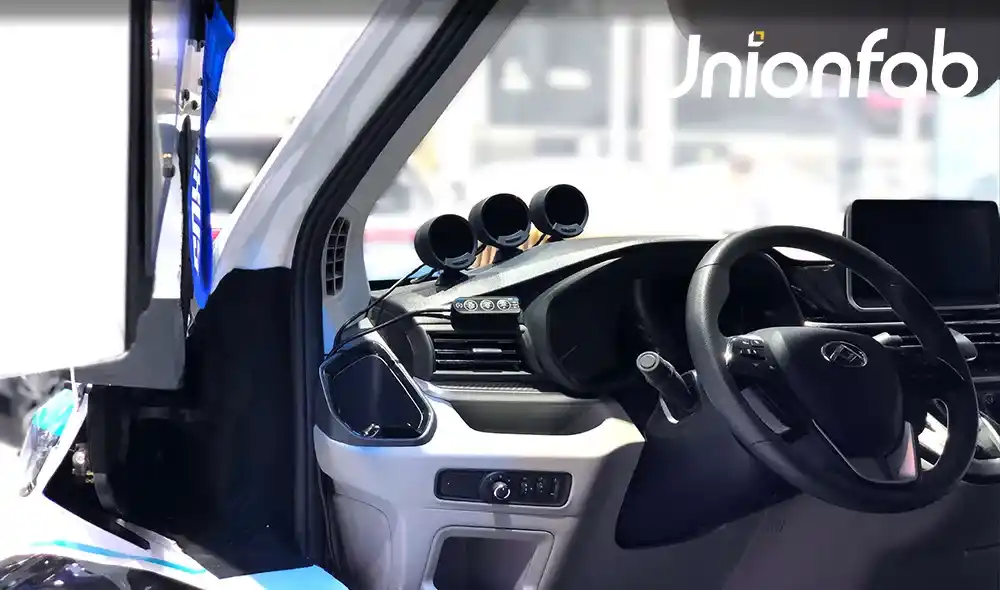 3D printed car dashboard cover. Source: Unionfab
3D Printing Method: Stereolithography (SLA), Digital Light Processing (DLP)
Materials Used: Resin with Textured Finish or High-Performance Thermoplastics
Personalized Dashboard Covers
Custom Door Panels
Tailored Center Consoles
3D printing enables the creation of custom interior trim components that align with the owner's style and preferences. Car manufacturers and enthusiasts can design and 3D print dashboard covers, door panels, and center consoles with unique textures, patterns, and colors.
For example, BMW offers a service called MINI Yours Customized, which allows customers to design their own interior trim pieces using an online configurator and have them 3D printed and delivered to their homes.
Ergonomic Seating and Controls
3D Printing Method: Selective Laser Sintering (SLS), Fused Deposition Modeling (FDM)
Materials Used: Flexible Thermoplastic Polyurethane (TPU), Nylon and Customized Polymer Blends
Custom Lumbar Support
Tailored Seat Bolsters
Adjustable Headrests
With 3D printing technology, upholstery, seats and consoles no longer needs to take a one-size-fits-all approach.
Seat cushions and backrests can be contoured to match an individual's spine and proportions. Custom bolstering and lumbar support uniquely fitted to the occupant's build and posture can be incorporated. Control panels, steering wheel housings, center consoles and other surfaces can be produced with designs catering to the user's ergonomic and styling needs.
Unique Interior Lighting Enhancements
3D Printing Method: Stereolithography (SLA) or Digital Light Processing (DLP)
Materials Used: Translucent Resin or Light-Diffusing Photopolymer
Personalized Ambient Lighting
Illuminated Door Sill Plates
Incorporating 3D printing in interior lighting enhancements allows for creative and unique designs. Personalized ambient lighting solutions enable car owners to set the mood inside the vehicle with customizable colors and intensity. Illuminated door sill plates add a touch of elegance and individuality, enhancing the overall interior aesthetics.
Car Functional Customization with 3D Printing
3D printing enables optimization of components for an individual's fit, comfort and needs.
Acoustics and Air Flow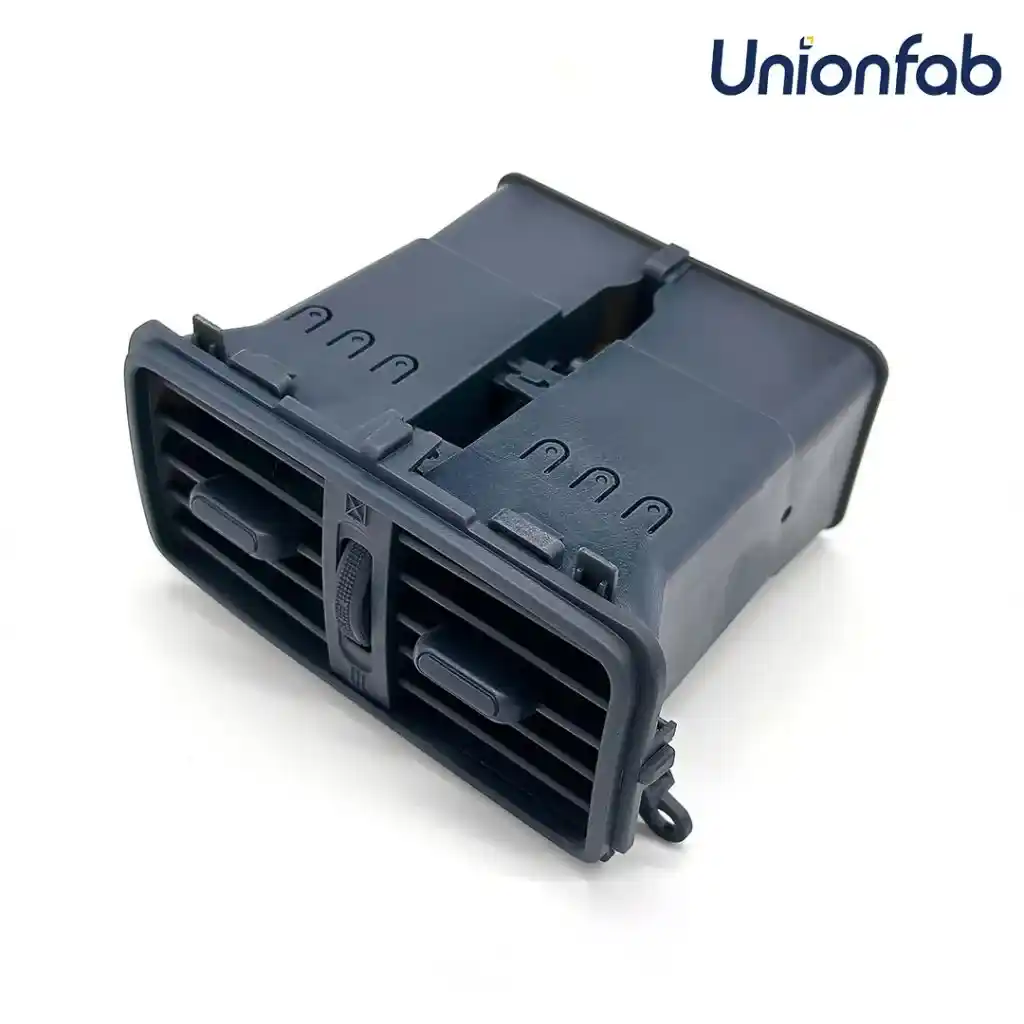 Car air-conditioning made with Somos® Taurus. Source: Unionfab
3D Printing Method: Selective Laser Sintering (SLS), stereolithography (SLA)
Materials Used: Nylon, High-Performance Thermoplastics, Resins
The geometry of air vents can be 3D printed for optimized airflow throughout the cabin. Sound absorbing panels can be tailored to tune acoustics to a passenger's hearing.
Lightweight Chassis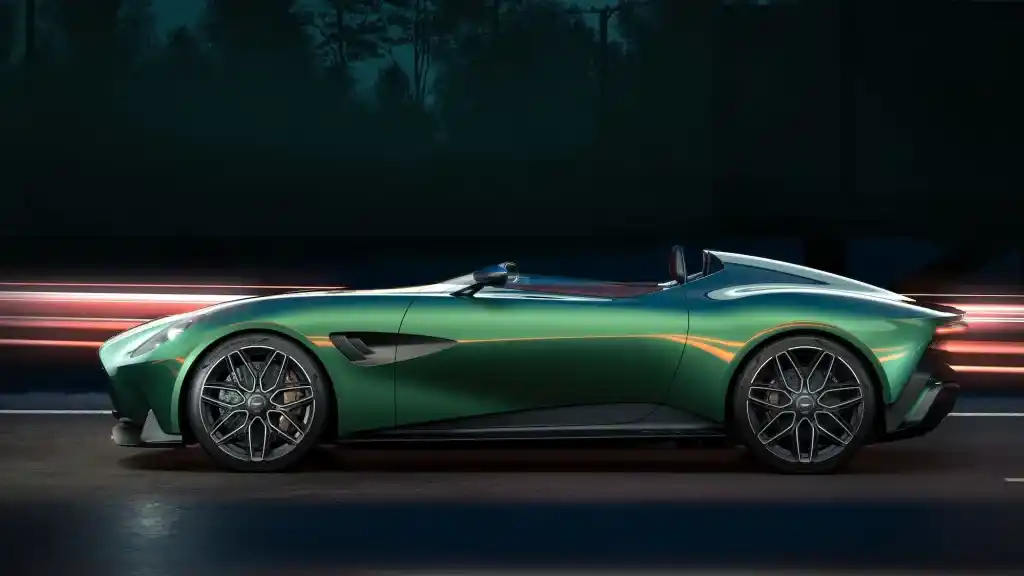 Aston Martin's DBR22 roadster. Source: Aston Martin
3D Printing Method: Selective Laser Melting (SLM), Electron Beam Melting (EBM)
Materials Used: Aluminum Alloy or Titanium Alloy
Last year, for the first time, Aston Martin has introduced additive manufacturing methods to car production. The frame assembly is made from multiple 3D printed parts printed in aluminium, which are then bonded together to form the subframe.
The benefits are obvious, with significant weight savings without compromising stiffness, and the ability to create specialized parts for ultra-small volume models as required.
Turbocharger Upgrade
3D Printing Method: Stereolithography (SLA), Selective Laser Melting (SLM)
Materials Used: High-Temperature Resistant Resins, Aluminum
Besides adding a turbocharger, you can also design and print custom turbo inlet pipes, intercooler mounts, and boost gauge pods, allowing you to optimize the turbocharging system for your specific car.
To learn how 3D printing can optimize the structure of automotive parts for increased performance, read this case study detailing the process of redesigning and manufacturing a turbocharger.
Streamlined Small Batch Production
On-demand 3D printing facilitates cost-effective production of customized automotive components in small batches.
Just-in-Time Manufacturing
Rather than mass producing parts that may go unsold, 3D printing allows bespoke components to be printed just-in-time when a customer orders them. This reduces unsold inventory.
Democratized Access to Car Modification
Low-volume parts for car modification can be expensive. 3D printing removes this barrier, enabling greater access to personalization.
Conclusion
The on-demand nature of 3D printing is the ultimate game-changer. No longer bound by inventory or production constraints, automakers can swiftly turn customers' visions into reality, delivering bespoke vehicles without delay.
Additive manufacturing is not merely revolutionizing the automotive industry; it is revolutionizing individuality. From artistic flair to technological innovations, 3D printing allows buyers to explore the frontiers of automotive design, ushering in a new era of personalized mobility.
In this transformative landscape, automakers are no longer simply manufacturers but curators of personalized experiences, and 3D printing is the key that unlocks this potential for self-expression on four wheels.
Elevate Your Car Customization with Unionfab: The Ultimate Choice
Discover the game-changing world of Unionfab, a leading provider of exceptional car customization solutions that have delighted customers worldwide.
Unparalleled Expertise in Metal Additive Manufacturing and Large-Scale SLA Printing – At Unionfab, we excel in the art of metal additive manufacturing and possess unrivaled expertise in large-scale SLA printing. Our cutting-edge technology and skilled team are dedicated to unlocking new possibilities for your automotive dreams.
Extensive Manufacturing Capabilities – With a network of over 800 additive manufacturing systems spanning across six state-of-the-art factories, Unionfab boasts comprehensive capabilities to cater to your every need. Whether you desire a rapid prototype within days or require thousands of end-use parts per month, our seasoned professionals are ready to supercharge your production timeline.
Tailored Solutions for Your Car Customization – At Unionfab, we understand that your car is an extension of your personality and aspirations. Our team of experts is passionate about collaborating with you to bring your unique car customization ideas to life. From bespoke designs to intricate details, we ensure your automotive dreams become a tangible reality.
Unlock the Future of Car Customization with Unionfab
Contact us today and unleash the power of Unionfab's innovative technologies and unrivaled expertise. Together, we'll redefine car customization and drive your automotive aspirations to new heights. Join the Unionfab experience and make your car truly yours.