This article explores how metal 3D printing enables conformal cooling for improved part quality, cycle times, and productivity.

Introduction of Conformal Cooling
Conformal cooling is an advanced technique for providing enhanced cooling channels in injection molds.

Principles of conformal vs traditional cooling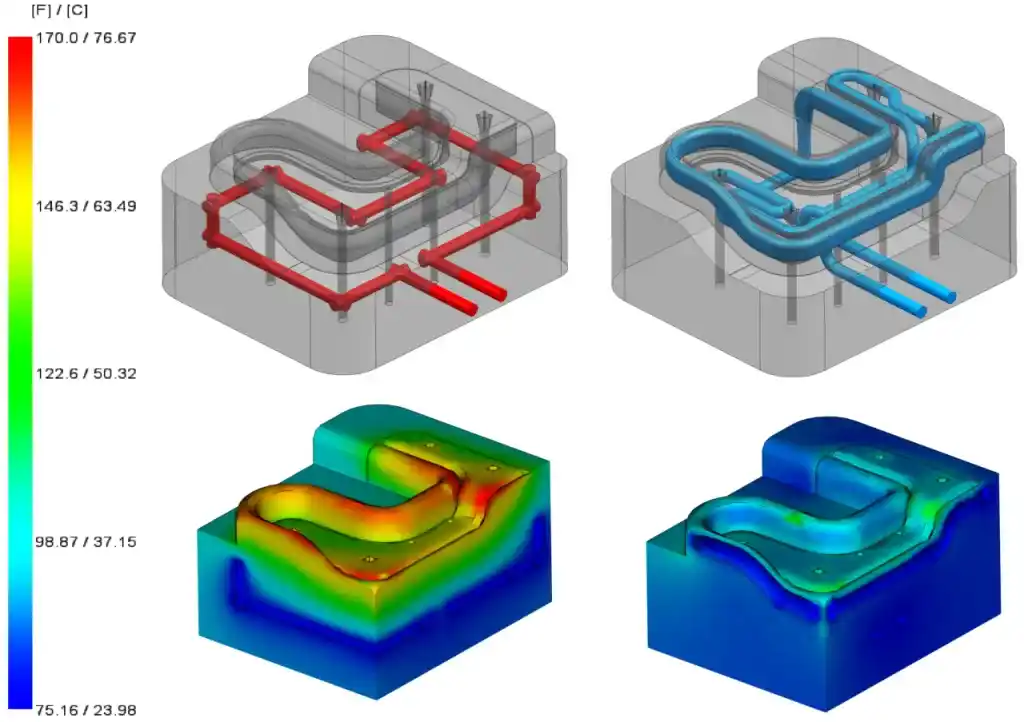 traditional straight cooling vs. conformal cooling. Source: Conventional vs. conformal cooling/DME.net
At its core, conformal cooling represents a departure from conventional cooling methods in manufacturing processes. Before, cooling channels within molds or parts have followed a linear or straight design, like how water flows in pipes.
Conformal cooling channels, on the other hand, precisely match the contours of the molded plastic part. This enables more efficient and consistent cooling during the injection molding process.

How Conformal Cooling Works – Key Advantages
Matching cooling channels to part geometry – Rather than being limited to straight paths, conformal channels twist and turn to precisely match the contours of the molded part. Conformal channels can be located closer to mold surfaces, enabling highly targeted, efficient cooling right where it is needed most.
More uniform cooling – By hugging the mold contours, conformal cooling maintains even, consistent cooling over the entire part surface. This minimizes thermal gradients that lead to defects.
Faster cooling cycles – The accelerated cooling of conformal channels reduces solidification times. Parts cool faster and can be ejected from the molds sooner, reducing cycle times.
Increased manufacturing productivity – Faster cycle times mean more parts can be produced per hour. Conformal cooling boosts productivity.
Improved plastic part quality – By minimizing thermal gradients, conformal cooling reduces warpage and residual stresses in molded parts. This also decreases defects like cracks, voids, and sink marks.

Conformal Cooling: Materials and Manufacturing Methods

Materials for Conformal Cooling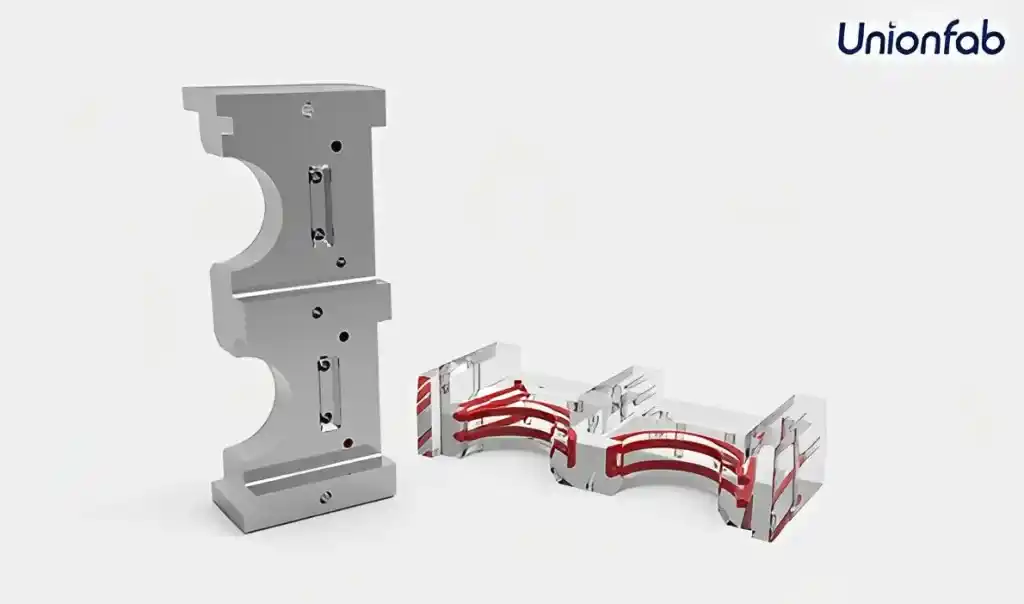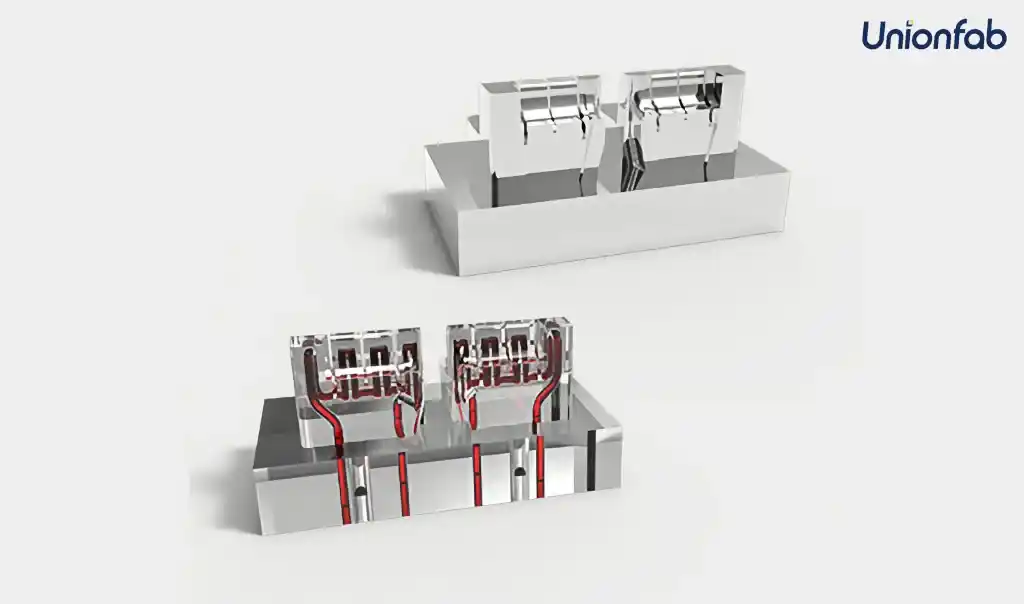 The inherent thermal conductivity of metals makes them prime candidates for effective heat dissipation:
Stainless Steel: Known for its corrosion resistance and durability, stainless steel is a popular choice for environments where moisture or chemicals are present.
Aluminum: With excellent thermal properties and lightweight characteristics, aluminum is suitable for applications where weight matters.
Copper: A champion of thermal conductivity, copper excels at swiftly transferring heat away from the object.
Maraging Steel: Combining strength with thermal conductivity, tool steel is ideal for applications requiring robustness.
Some Key Material Properties include:
Thermal Conductivity: The ability to quickly carry away heat is vital for efficient cooling.
Corrosion Resistance: Resistance to degradation from environmental factors ensures longevity.
High Temperature Strength: Withstanding elevated temperatures maintains performance under stress.
Material Considerations by Application: Different applications might demand specific material properties to optimize cooling and overall functionality.

Manufacturing Methods
A subtractive process that carves out cooling channels from solid material.
Geometry Constraints: Limited by the geometry constraints of the machine's cutting tools.
Slow Process: Involves multiple operations including fixturing and tool changing, making it a relatively slower process.
Surface Finish: Able to achieve excellent surface finishes, which is important for the efficiency of heat transfer.
An additive process that constructs objects layer by layer, allowing for complex geometries.
Design Freedom: Offers complete freedom in designing intricate cooling channels.
Fast Production: Channels can be printed directly in one step, leading to faster production.
Post-Processing Requirement: Requires post-processing to achieve desired surface finish and precision.

Leveraging Metal 3D Printing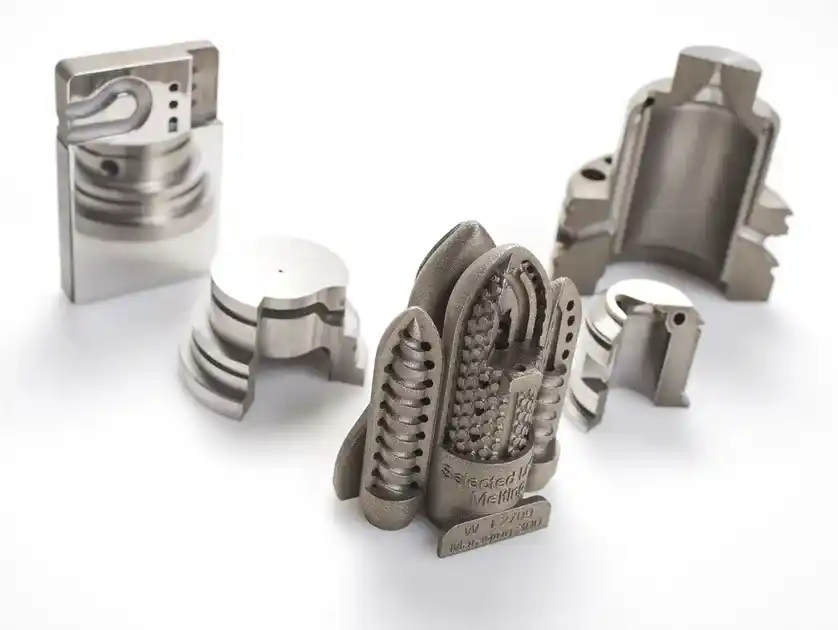 Intricate metal 3D printed cooling systems. Source: HRS Flow
Complex Geometries Beyond CNC
Metal additive manufacturing (MAM) enables complex channel geometries not possible with conventional CNC machining due to geometric constraints. The layer-by-layer printing process allows the production of twisting, turning cooling channels that match complex part geometries.
Faster and More Cost-Effective
3D printing conformal channels takes hours versus days for CNC machining. It eliminates multi-step machining operations, fixture requirements, and material waste.
Rapid Iteration of Channel Designs
The additive nature of 3D printing allows rapid iteration of channel designs. Engineers can easily modify and optimize channel designs for 3D printing. New versions can be printed overnight for rapid design iteration.

MAM for Conformal Cooling: Industry Applications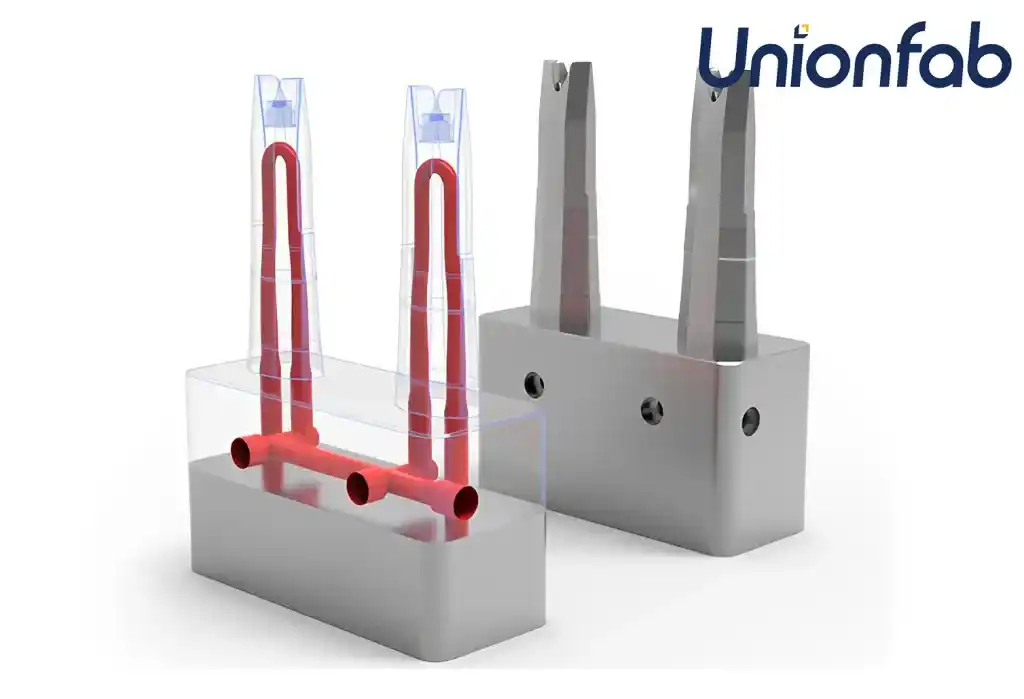 Conformal cooling enabled by metal 3D printing is being adopted across various industries to reap the benefits of improved quality, reduced cycle times, and lower costs. Here are some of the key application areas:
Automotive – Conformal cooling is being used to manufacture injection molds for plastic parts in automotive interiors and exteriors, such as bumpers, panels, and grills. The improved mold cooling reduces defects and speeds up cycle times.
Consumer Products – Complex consumer product molds, such as those used for plastic bottles, containers, and household appliances, are ideal candidates for conformal cooling channels to boost productivity.
Aerospace – Metal 3D printing of lightweight conformal cooling channels can provide improved performance in aerospace applications like turbine blades and rocket engine nozzles.
Medical – Conformal cooling enables high-quality injection molding for medical devices and instruments with fine details and thin walls that require precise temperature control during molding.
Electronics – For injection molded electronic enclosures, connectors, and housings, conformal cooling gives enhanced precision and surface finish while increasing throughput.
Conclusion
As additive manufacturing continues to evolve, conformal cooling adoption will grow across even more industries looking to gain a competitive edge through enhanced quality, reduced lead times, and lower manufacturing costs.

Unionfab Services: Pioneering MAM Solutions
At Unionfab Services, we specialize in providing top-tier metal 3D printing solutions tailored to your industry requirements.
Discover the future of manufacturing with Unionfab Services. Contact us today to discuss your project and unlock the potential of metal 3D printing.
Learn more about Unionfab Services and how we can empower your business with advanced metal 3D printing capabilities.