Explore the versatile applications of Stereolithography (SLA) 3D printing technology within the automotive industry.
Introduction to SLA in Automotive Manufacturing
Stereolithography (SLA) 3D printing technology stands as a transformative force within the automotive industry, redefining the way vehicles are conceptualized, designed, and produced.
This article delves into the pivotal role of SLA 3D printing, specifically focusing on three crucial aspects: prototyping, customization and personalization, and tooling and fixtures.
By harnessing the potential of SLA, the automotive sector is witnessing a paradigm shift that addresses the ever-evolving demands of consumers and the industry.
Overview of SLA Technology
At the heart of SLA lies the concept of additive manufacturing (AM), a departure from traditional subtractive methods. Unlike traditional methods, SLA employs an additive approach, layering resin materials to form intricate and precise structures.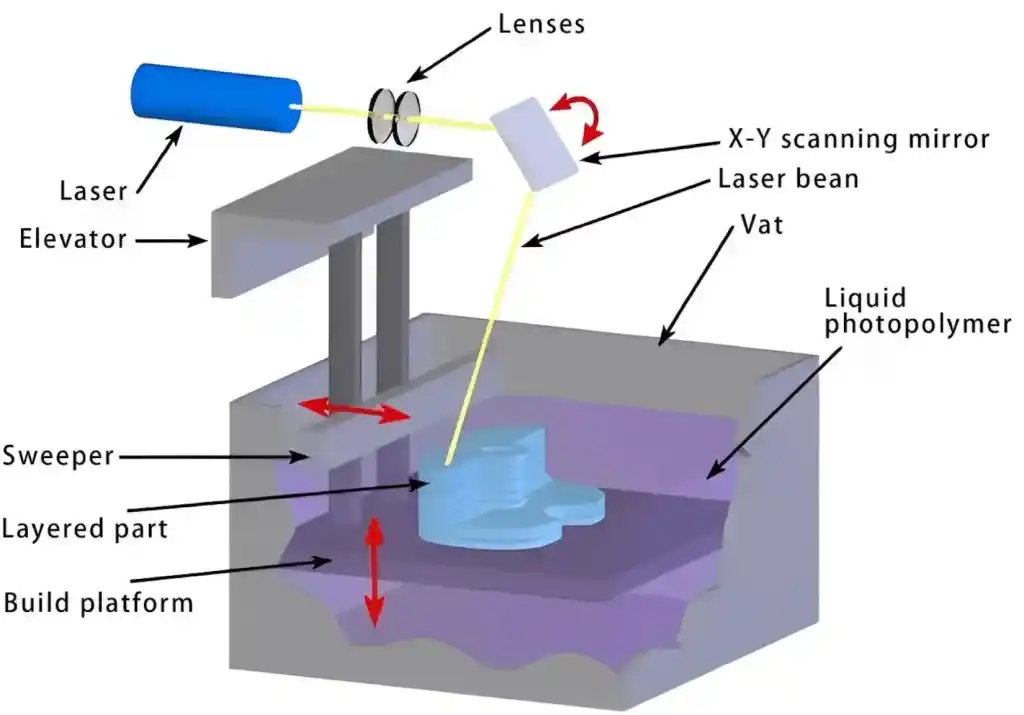 SLA process
SLA's ability to create complex geometries with exceptional accuracy has made it an indispensable tool in overcoming design constraints and materializing innovative concepts. It is one of the most widely used additive manufacturing technologies in the automotive industry, offering a series of tangible benefits for automakers.
Importance of Agile Development and Tailored Solutions
The automotive industry thrives on agility and responsiveness to changing market dynamics. SLA 3D printing aligns seamlessly with the industry's demand for swift iterations and prototyping. Its rapid turnaround times empower designers and engineers to refine their ideas, accelerate the design process, and achieve a competitive edge.
Furthermore, the demand for tailored solutions and personalized experiences is on the rise. SLA enables the creation of intricate, one-of-a-kind components that cater to individual preferences, fostering a deeper connection between consumers and their vehicles.
Transition from Traditional Methods to AM and the Role of SLA
The automotive industry has witnessed a gradual shift from conventional manufacturing techniques towards additive manufacturing processes. This transition is driven by the need for increased efficiency, reduced waste, and enhanced design freedom.
SLA 3D printing, as a frontrunner in additive manufacturing, plays a pivotal role in this transformation. Its ability to generate detailed and functional prototypes, intricate custom parts, and specialized tooling brings a new dimension to the way vehicles are conceived and fabricated.
Benefits of SLA for Automotive Applications
Precision and Detail: SLA excels at producing prototypes with exceptional precision, capturing even the smallest design details and surface finishes.
Extensive Material Choice: SLA can print a wide range of materials with different properties, such as rigid, flexible, transparent, or heat-resistant, allowing for more design freedom and innovation. Click to explore Unionfab's extensive material choices.
Rapid Prototyping: SLA's tool-less approach accelerates the prototyping process. Unlike traditional methods that require specialized tooling, SLA bypasses this requirement, resulting in faster iterations.
Cost and Time Savings: The streamlined prototyping process facilitated by SLA translates into minimized expenses associated with tooling and lengthy production processes.
Complex Geometries: SLA's layer-by-layer construction makes it ideal for creating complex and intricate geometries that may be challenging using traditional methods.
SLA car air conditioning part prototype. Source: Unionfab
Versatile Applications of SLA in the Automotive Industry
Automakers leverage SLA 3D printing across the entire product development process:
Concept Design – Highly detailed scale models and full-size mockups printed in SLA allow designers to evaluate styling and ergonomics of early-stage concepts.
Tooling Production – SLA patterns for metal casting moulds and prototypes for silicone moulds in vacuum casting enable accelerated fabrication.
Fit and Form Testing: Test models printed in engineering-grade resins validate fit, assembly processes, and performance factors like aerodynamics before production tooling.
Customization and Personalization: SLA's efficiency in producing small batches of end-use components enables customization and personalization trends to be accommodated without compromising on quality or production efficiency.
Replacement Parts Production: Hard-to-find plastic components can be 3D printed on-demand with SLA, providing stopgap solutions for maintenance needs and minimizing vehicle downtime.
SLA Empowering Automotive Prototyping and Concept Modeling
Rapid Prototyping for Concept Design
The rapid turnaround time enabled by SLA technology accelerates automotive concept design. Designers can quickly iterate styling models to evaluate proportions, surfacing, and ergonomics.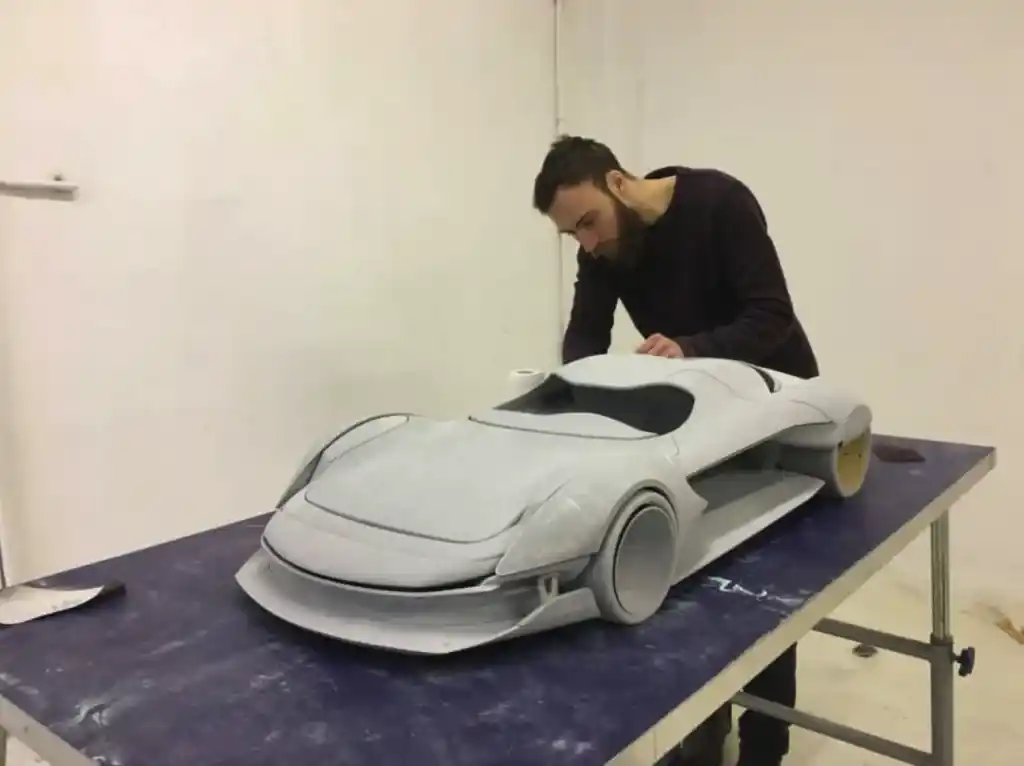 1:4 scale car model. Source: Bigrep
SLA can fabricate 1:4 scale concept models in hours, enabling designers to make informed refinements in a single day. The tangibility of physical prototypes proves superior to digital models for hands-on assessment of styling and UX.
One-piece Moulding of Large Parts
Large format SLA printers with build volumes up to 2.1 meters enable automotive manufacturers to 3D print full-scale exterior body panels and interior components in a single piece. This allows for more accurate validation of fit, clearances, proportions and surface finishing on tangible real-world parts early in the design process.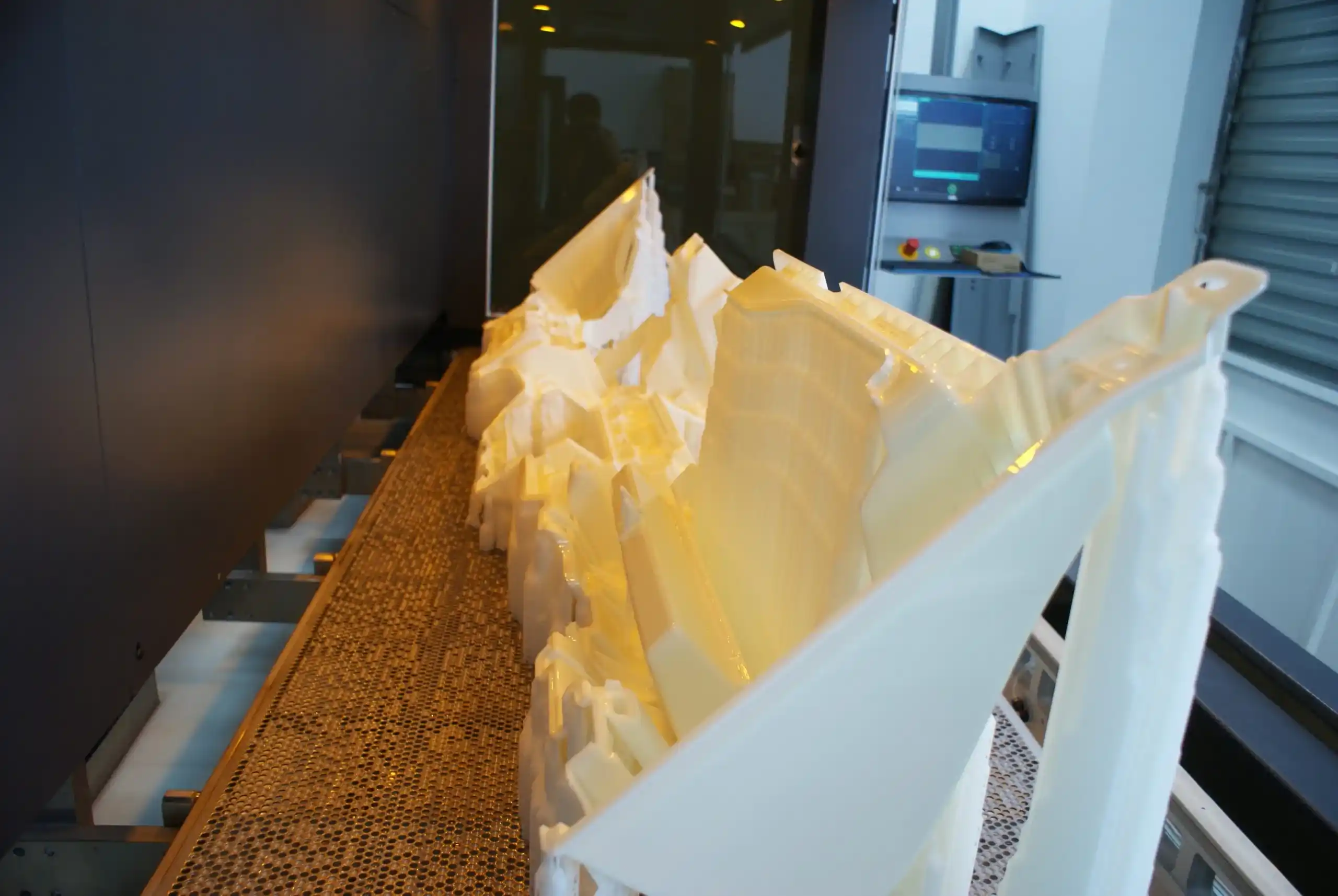 SLA large format printing. Source: Unionfab
Large format printing helps overcome traditional size limitations, where multiple smaller components would need assembly. The ability to digitally design and 3D print unified outer structures and intricate interiors speeds up design iteration and part consolidation.
Fit and Form Testing
SLA prototyping enables accurate fit and form testing for automotive components prior to full production. The precision of SLA can produce parts with tight tolerances and fine details required for proper fitting of body panels, interior trim, lighting systems, and various fastening hardware.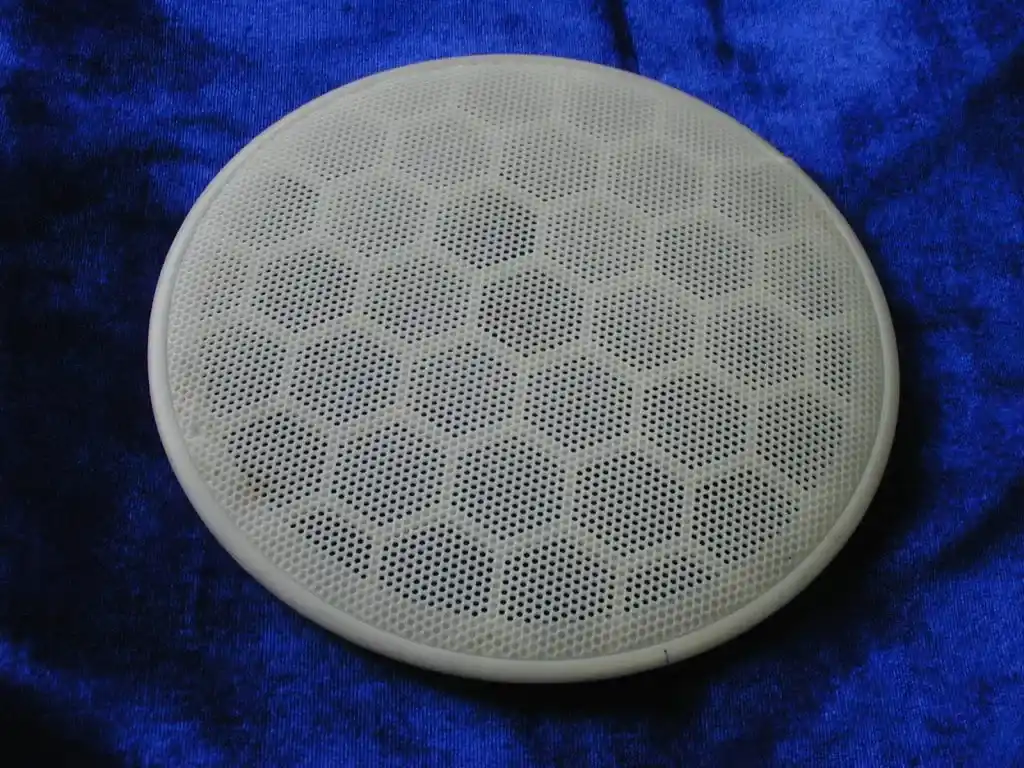 Car interior speaker covers. Source: Unionfab
Test fitting SLA prototype parts early in the design process helps automotive engineers validate alignments, gaps, and clearances between components. This upfront fit and form testing uncovers integration issues that can be corrected before committing to hard tooling, avoiding expensive rework later in the development cycle.
Comparing Automotive Prototyping: CNC vs. SLA 3D Printing
When evaluating the realm of automotive prototyping, a comparison between Computer Numerical Control (CNC) machining and Stereolithography (SLA) 3D printing reveals distinct advantages and limitations in various aspects.
Surface Quality
CNC machining excels in achieving exceptionally smooth surfaces that meet high precision standards.
In contrast, SLA 3D printing may struggle to match CNC's level of surface smoothness.
Mass Manufacturing
For the production of large quantities of parts, CNC machining holds a competitive advantage.
SLA 3D printing might be more suited for smaller batch sizes or prototypes.
Material Selection
CNC machining offers versatility in material selection, accommodating a wide range of options including metals, plastics, woods, composites, etc.
SLA 3D printing, on the other hand, is limited to photosensitive resins, constraining material diversity.
Structurally Complex Parts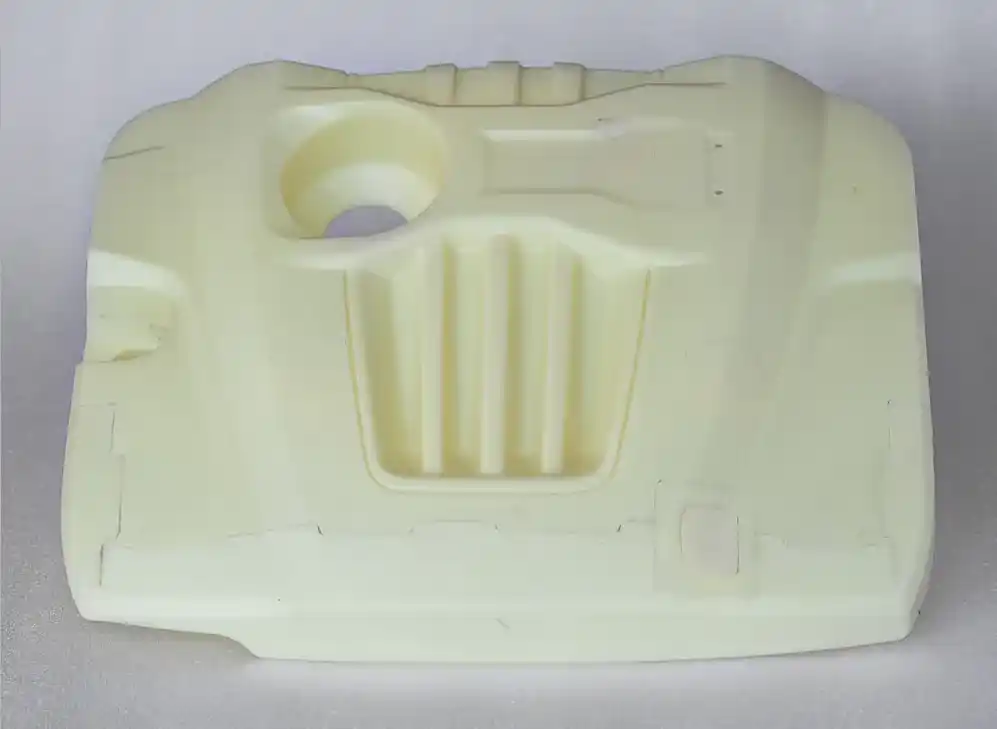 CNC (left) vs. SLA 3D printed car bonnet. Source: 3dvistar
SLA 3D printing shines in the realm of structurally complex parts.
It can fabricate intricate geometries in a single piece or mold, whereas CNC machining may require producing complex shapes in multiple segments that need subsequent assembly.
Production Cost and Time
CNC Machining:
High upfront costs for CNC machine setup/programming
Additional costs for custom fixturing and tooling
Material waste from subtractive process
Economical for mass production, costly for low volumes
SLA 3D Printing:
Minimal setup time and costs
No additional tooling required
Additive process minimizes material waste
Low volume production is economical
SLA for Automotive Tooling and Fixtures
SLA 3D printing enables high precision fabrication of complex automotive tooling and fixtures with tolerances down to +/-.004" per inch. The technology is ideal for applications that demand tight tolerances, smooth surface finishes and complex geometries.
Molds and dies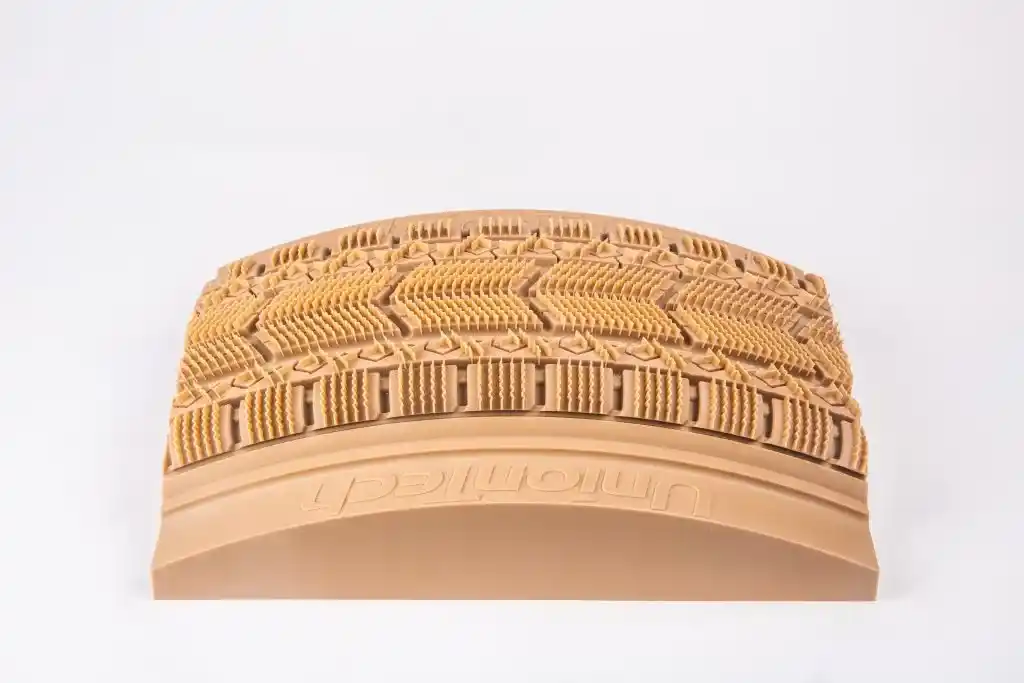 SLA printed tyre mould. Source: Unionfab
SLA can print durable, dimensionally stable molds and dies for casting intricate components, consolidating multiple parts into single tools. Smooth, contoured composite layup tools are 3D printed in heat-resistant resins for composites manufacturing.
Jigs and fixtures
Precisely located pins and mounting points on SLA 3D printed jigs allow accurate positioning and clamping of components during assembly. This improves the repeatability and quality control of manual production tasks.
Jigs and fixtures have traditionally relied on CNC machining, but advances in 3D printing now enable lighter, customized tooling with faster turnaround times.
SLA 3D Printing for Customized Car Parts
SLA enables on-demand production of customized cosmetic and functional parts for personalizing vehicles. The technology can fabricate components tailored to individual preferences in performance, styling, and maintenance.
Custom Engine Components
Complex parts like intake manifolds, valve covers and turbo housings can be 3D printed in lightweight, high-temp resins. This allows reducing component weight while adding personalized styling. Optimized manifolds and housings also improve engine airflow and performance. For example, SLA 3D printing enabled creating a customized turbo charger part for increased engine power.
Exterior Body Components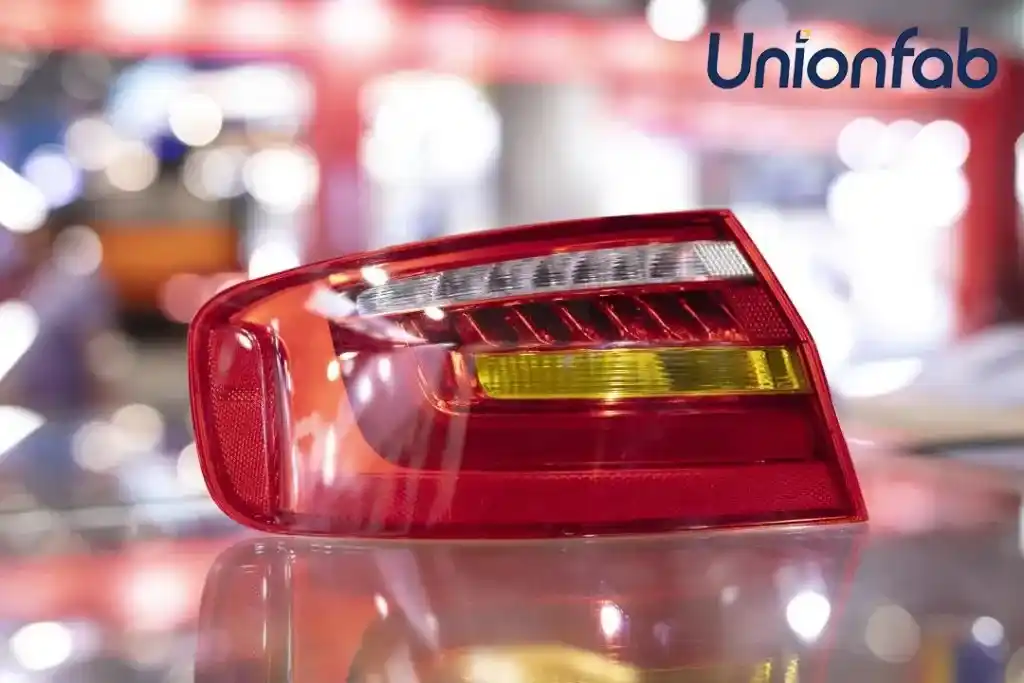 SLA 3D printed car light and air duct. Source: Unionfab
SLA can create bespoke body components like lights, mirrors, grilles, spoilers to customize exterior styling. Aerodynamic elements and vents are 3D printed for adding performance touches. The surface finish and dimensional accuracy enables flush fit with body panels.
Custom Vehicle Wraps and Displays
SLA enables 3D printing sleek, contoured displays and wraps that seamlessly adhere onto vehicle surfaces for promotional purposes. Custom wraps with bold graphics and colors transform exterior styling for product launches and events.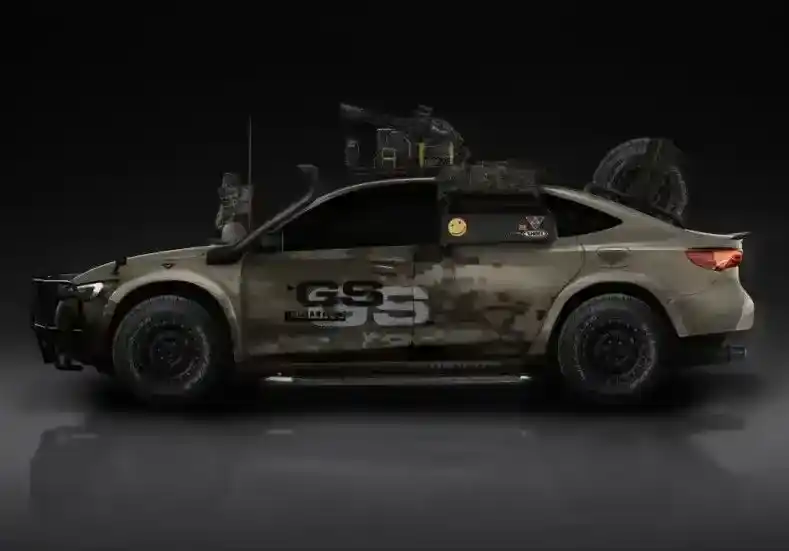 Customized car display. Source: Unionfab
Displays can also be fabricated to attach on top of the car and other surfaces to create impressive marketing activations and experiences with vehicles. For instance, see how SLA 3D printing was used to create custom displays for Buick Verano Pro.
Spare and Replacement Parts
Hard-to-find plastic components can be digitally archived and 3D printed on demand. This provides stopgap solutions while new replacement parts are sourced, reducing maintenance costs through digitally-driven on-demand part production.
Advanced SLA Capabilities for Automotive Manufacturing
Here's an in-depth look at the advanced SLA capabilities that are revolutionizing the industry:
Novel Resins and Material Properties
The expansive range of SLA-compatible resins presents a realm of possibilities for the automotive sector.
High-temperature resins enable the creation of components that endure extreme conditions, ideal for engine compartments or underhood applications. Carbon fiber-reinforced resins usher in lightweight yet sturdy components, redefining structural elements while optimizing fuel efficiency.
Multi-Material Printing for Diverse Properties
SLA's multi-material printing capability introduces a new dimension in design.
By embedding different materials within a single part, automakers can engineer components with varying mechanical properties. This innovation empowers the creation of components tailored to specific stress points or functional requirements.
Looking Ahead: The Future of SLA in Automotive
Achieving Lightweight Cars with Advanced SLA Materials
The use of lightweight SLA materials like in automotive applications is expected to lead to a number of benefits, including:
Improved fuel efficiency: Lightweight vehicles use less fuel to travel the same distance. 100kg of plastic can achieve fuel savings of more than 0.5 litres per 100 kilometres, which can lead to significant savings in fuel costs and emissions.
Increased performance: Lightweight materials can help to improve the performance of vehicles. The reduction in weight facilitates improved agility, acceleration, and maneuverability. Handling can also become more responsive.
Environmental Conservation: the use of lightweight SLA materials in automotive applications is also expected to lead to a number of environmental benefits, including reduced emissions, reduced waste, and improved recycling
Here are some of the lightweight SLA materials that are being used for automotive manufacturing applications: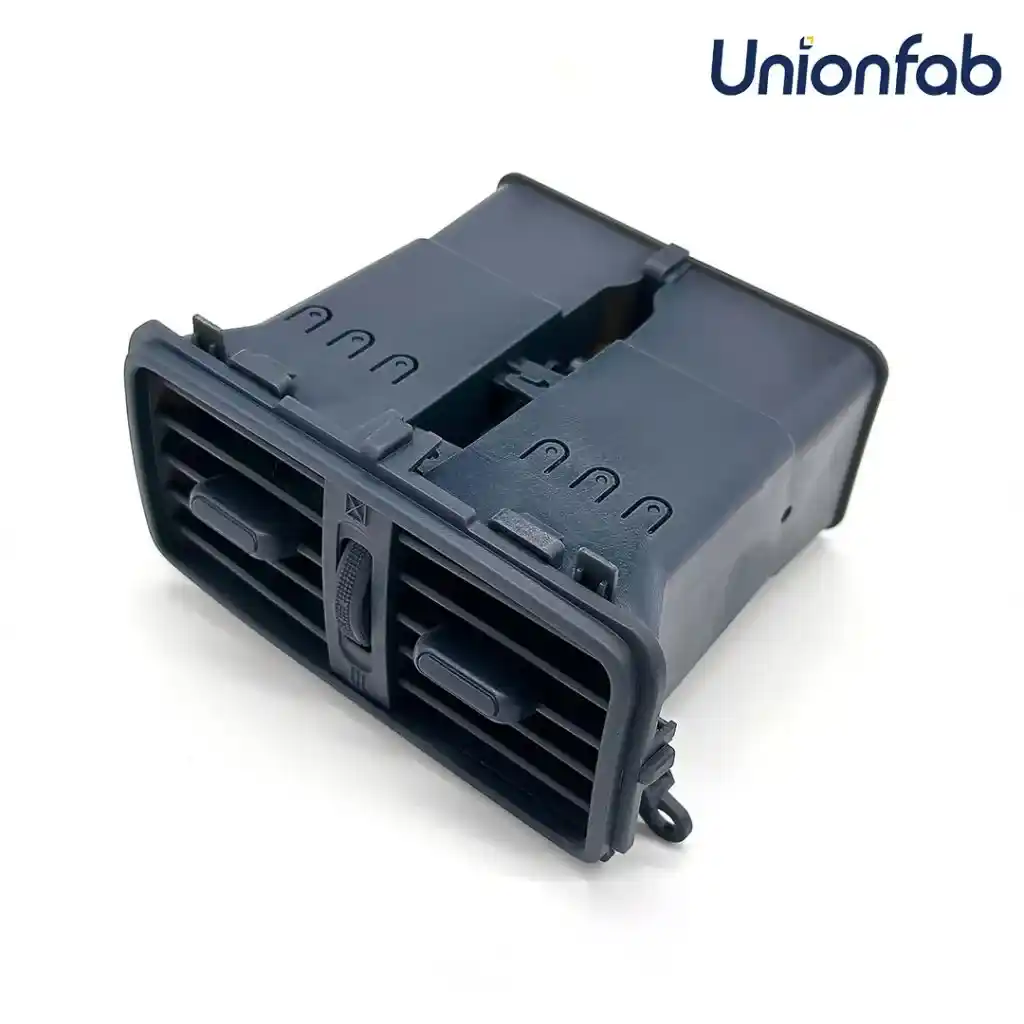 Somos® Taurus air conditioning part. Source: Unionfab
Standard Resins – Materials like Somos® PerFORM and Somos® Taurus produces strong, stiff, high-temperature resistant composite parts while being lower density than metals. They are used for structural brackets, ducts, and components needing thermal resistance like headlamp housings. Click to explore Unionfab's wide array of materials.
Filled Resins – Adding hollow glass microspheres to SLA resins reduces their density while maintaining strength. Nanoparticle fills like carbon nanotubes also decrease weight. Used for interior trim pieces and ducts requiring rigidity.
Foam Composites – Injecting foam into 3D printed SLA lattice structures creates lightweight sandwich composites — absorbing bumper cores with high impact resistance. The outer SLA skin provides strength while foam fills the interior.
Fiber Reinforced – Chopped carbon fiber, glass fiber or other reinforcements boost resin strength and stiffness of interior panels and consoles without adding weight.
Bio-derived Resins – Resins partially derived from plant-based oils rather than full petrochemicals tend to have lower densities. Used for various non-structural interior trims and customization components.
Functional Integration and Embedded Electronics
The convergence of SLA and electronics integration opens doors to smart components.
SLA-produced parts can now incorporate embedded sensors, conductive elements, and even microelectronics directly into the component's structure. This advancement paves the way for enhanced vehicle connectivity and advanced driver-assistance systems.
Customizable Thermal and Acoustic Properties
SLA's material versatility allows for the creation of components with tailored thermal and acoustic properties. These components can play a pivotal role in optimizing vehicle thermal management systems, as well as in enhancing cabin comfort through noise reduction.
Accelerating Automotive Initiatives with Unionfab
As China's leading provider of 3D printing solutions, Unionfab helps companies across the automotive value chain harness the potential of SLA technology.
With a fleet of industrial SLA printers and over two decades of experience, Unionfab delivers high-quality automotive components tailored to your specific requirements. Our experts can advise on optimal materials and processes to meet your needs.
Talk to Unionfab today to discuss how our rapid prototyping, bridge tooling, and end-use parts production services can accelerate your automotive initiatives, and get your free quote too!