From high-performance engines to eye-catching body designs, we'll unravel the potential of top 3D printing materials shaping the future of auto customization.
Elevating Aesthetics: 3D Printing Materials for Stylish Enhancements
3D printing has transcended traditional design constraints, allowing designers to unleash creativity and transform vehicles into rolling masterpieces.
Beyond Standard: Custom Grilles, Emblems and Badges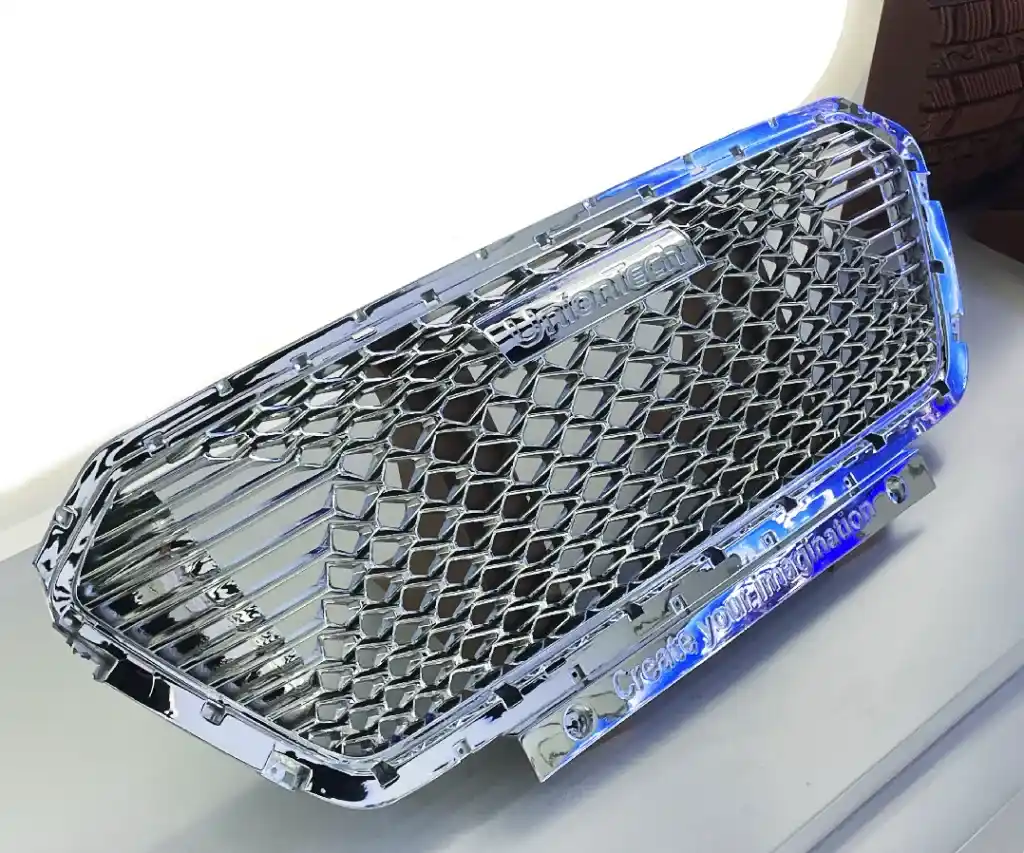 Custom Grill. Source: Unionfab
Custom grilles and body panels take vehicle aesthetics to new heights. Metals like aluminum and steels can be 3D printed using selective laser melting (SLM) and direct metal laser sintering (DMLS) to create lightweight, high-strength exterior components with intricate designs. These additive techniques turn mundane surfaces into artistic showpieces.
Interior Elegance: Craftsmanship in Detail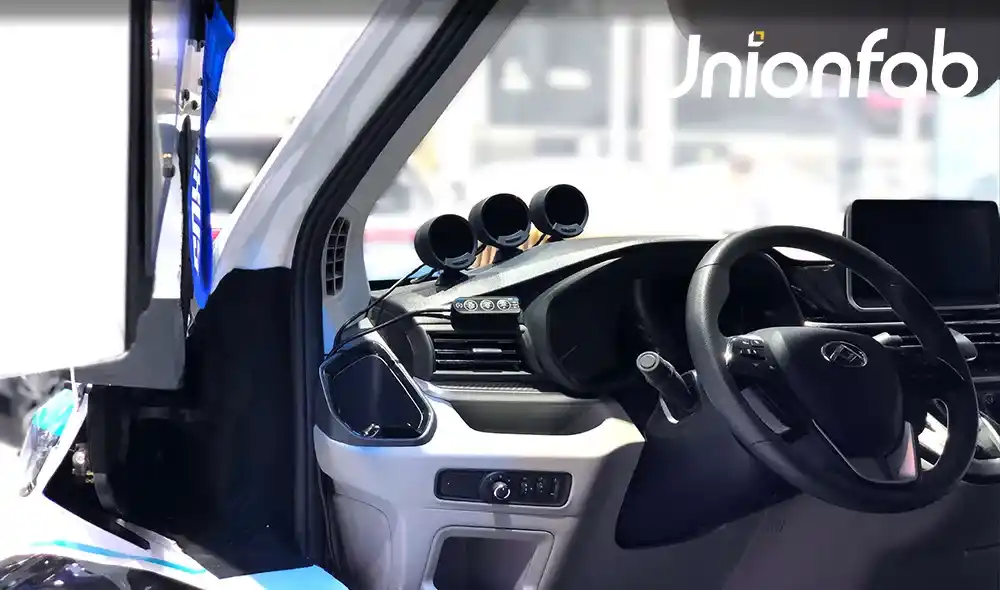 3D printed dashboard. Source: Unionfab
Interior accents like shift knobs, dashboard embellishments, and door handles embrace a new level of personalized elegance. Plastics like ABS and nylon can be 3D printed via fused deposition modeling (FDM) and multi-jet fusion (MJF) to customize trims and controls. Owners can infuse their personality into every cabin detail.
Somos® Taurus combines temperature resistance and toughness, with a temperature resistance of 90°C, a notched impact strength of 47.5 J/m, and a smooth surface, making it a good replacement for nylon in automotive parts.
Transparent and Translucent Resins: Light Plays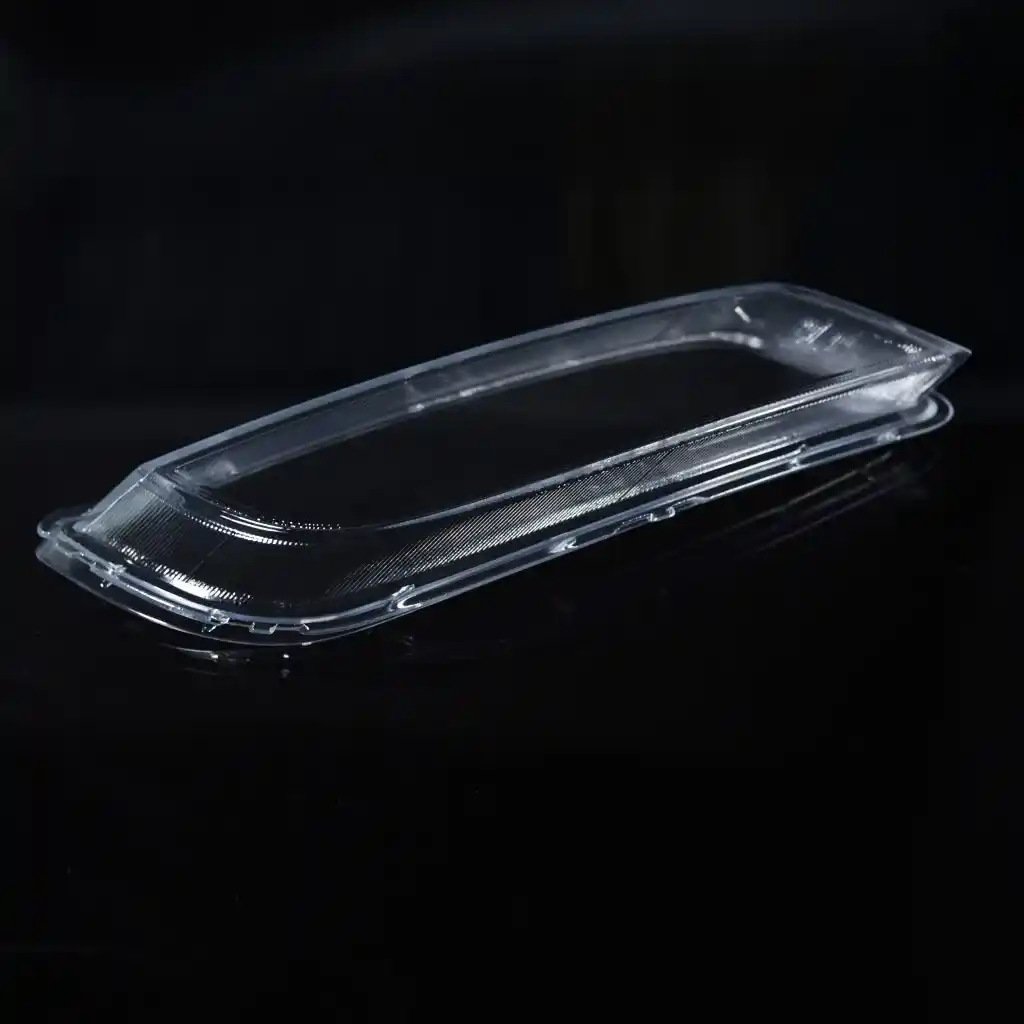 Transparency and translucency take center stage with stereolithography (SLA) 3D printing of customized light housings and fixtures using optically clear resins. These allow light to permeate exteriors and interiors in breathtaking ways. Tail light covers and interior lamps become artworks showcasing the dance of light.
Unleashing Performance with 3D Printing Materials: Functional Advancements
Modern car enthusiasts are not merely satisfied with aesthetics; performance-driven upgrades play a pivotal role. Enter 3D printing, a game-changer for fabricating specialized functional components. By leveraging this technology, car aficionados can reimagine critical parts with enhanced precision and innovation.
Lightweight and Strong: Carbon Fiber Reinforced Materials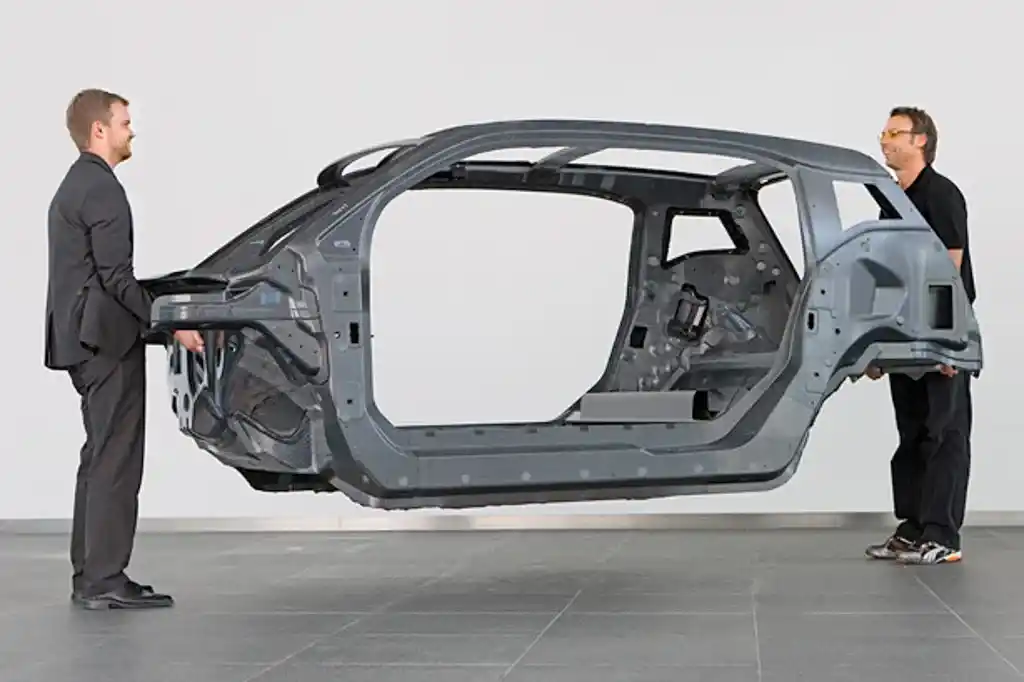 Light-weight carbon fiber car chassis.
Carbon fiber reinforced materials offer a winning combination of strength and low weight. Brake calipers, suspension components, and even lightweight chassis parts are now attainable, enhancing both agility and responsiveness.
Forging Ahead with Metals: Aluminum, Steel and Metal-Based Alloys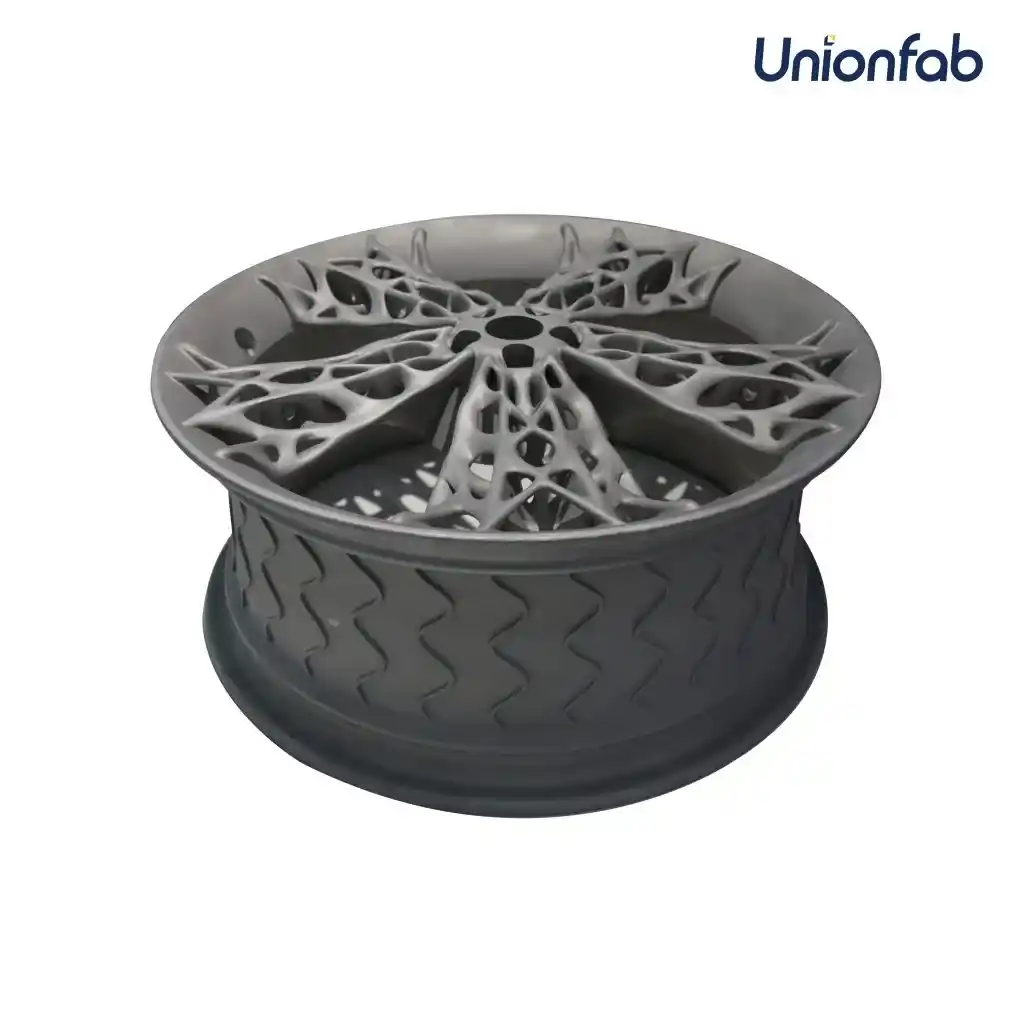 Wheel hub printed with Aluminum Alloy (left).
Car tailpipe and wheel hub made of Stainless Steel 316/L (middle and right).
Source: Unionfab
Metal-based 3D printing alloys, such as titanium and aluminum, empower car enthusiasts to forge intricate parts with excellent mechanical properties. From turbocharger impellers to exhaust components, these alloys withstand high temperatures and stress while maintaining a refined finish.
Case Study: Revolutionizing Performance through Advanced 3D Printing
Unionfab harnessed the power of Stereolithography (SLA) 3D printing to fabricate tailor-made turbocharger components. This innovative process allows for intricate designs and complex geometries that were previously unattainable through traditional manufacturing methods.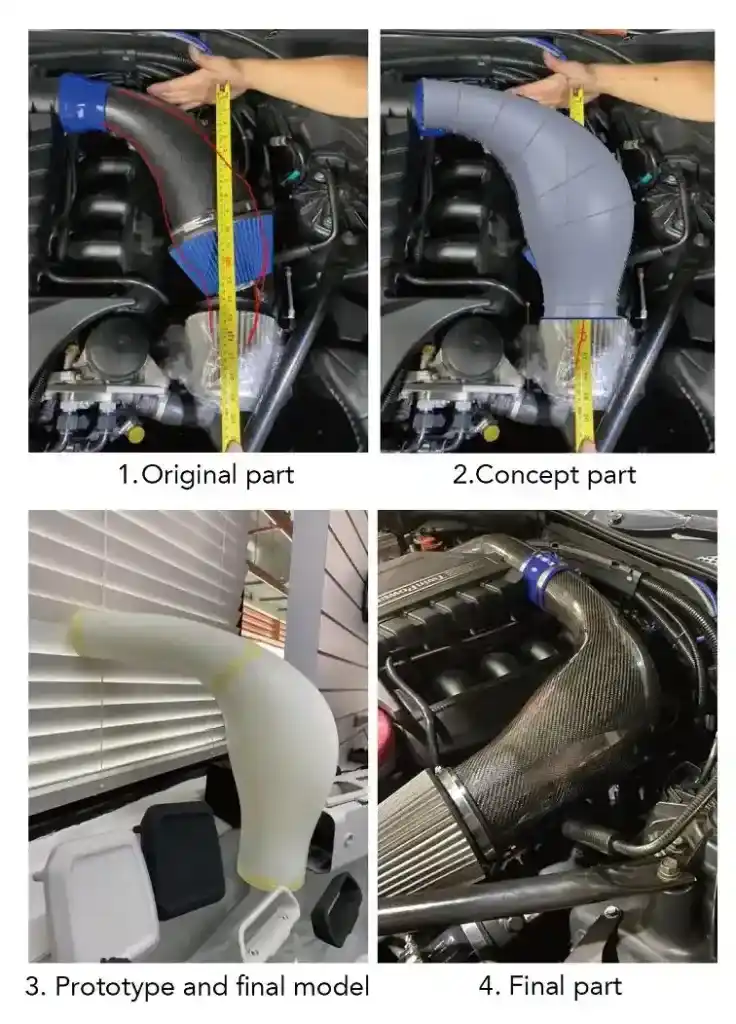 Following a series of meticulous refinements, the definitive design was established, with the selection of Unionfab's Lite600 3D printer for crafting a meticulously detailed white photosensitive resin prototype. This prototype successfully surpassed the rigorous assessments encompassing design congruence and seamless assembly.
Subsequently, the 3D-printed resin prototype served as a precise template, facilitating the fabrication of the ultimate carbon fiber components.
Choosing the Perfect Material: Factors and Considerations
The selection of an ideal 3D printing material plays a pivotal role in the realm of car modification, impacting both functional prowess and visual allure. The following key considerations wield significant influence, ensuring the final choice aligns seamlessly with functional demands and aesthetic aspirations.
Strength and Durability: Beyond the Surface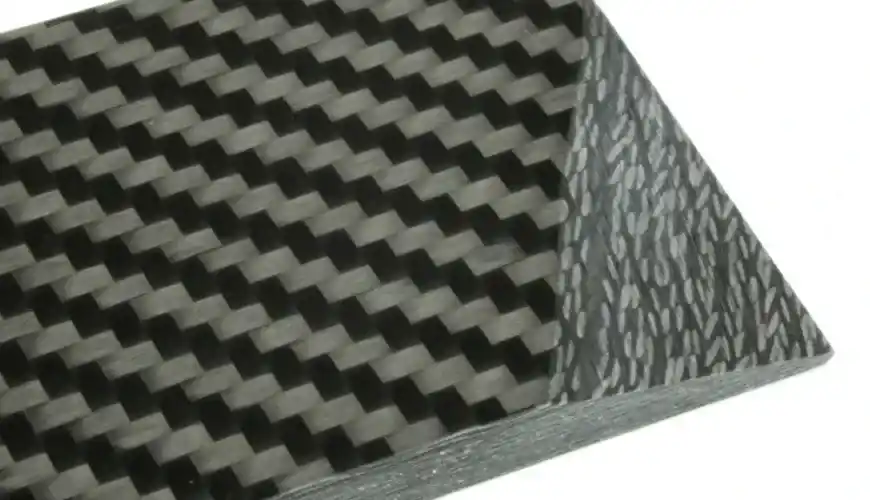 carbon fiber-infused material
Beyond appearances, a rigorous exploration of mechanical attributes is indispensable. Scrutinize load-bearing capacity, impact resilience, and enduring robustness. For instance, reinforced nylon or carbon fiber-infused materials may empower structural components with exceptional strength, assuring optimal performance and resilience over time.
Thermal Performance: Handling the Heat
Foresee the formidable thermal challenges the part will encounter, particularly in high-temperature zones like the engine bay or proximity to exhaust systems. Opt for materials with high-temperature resistance, such as thermally conductive alloys or ceramics, to withstand intense heat without compromising form or function.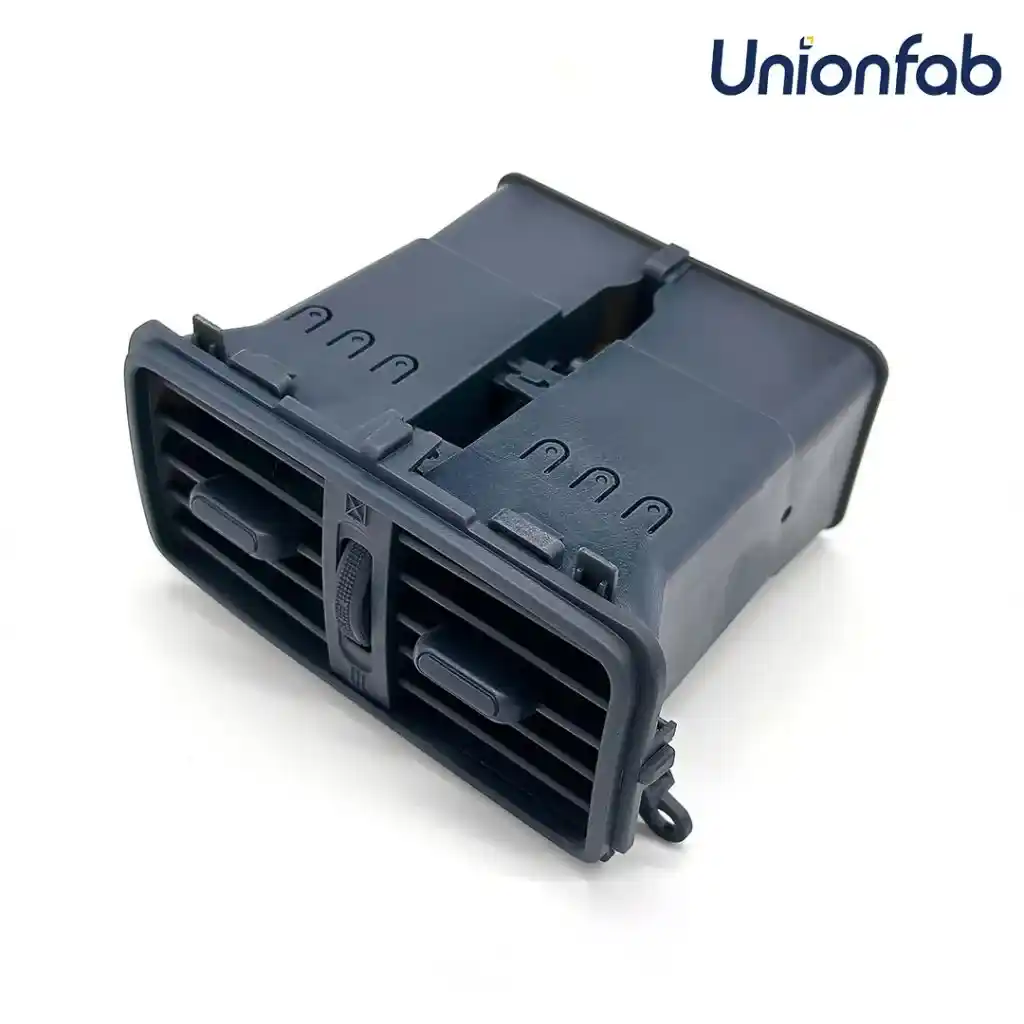 Car air-conditioning made with Somos® Taurus. Source: Unionfab
Materials like Somos® PerFORM and Somos® Taurus produces strong, stiff, high-temperature resistant composite parts while being lower density than metals. They are used for structural brackets, ducts, and components needing thermal resistance like headlamp housings.
Surface Finish and Aesthetics: The Look and Feel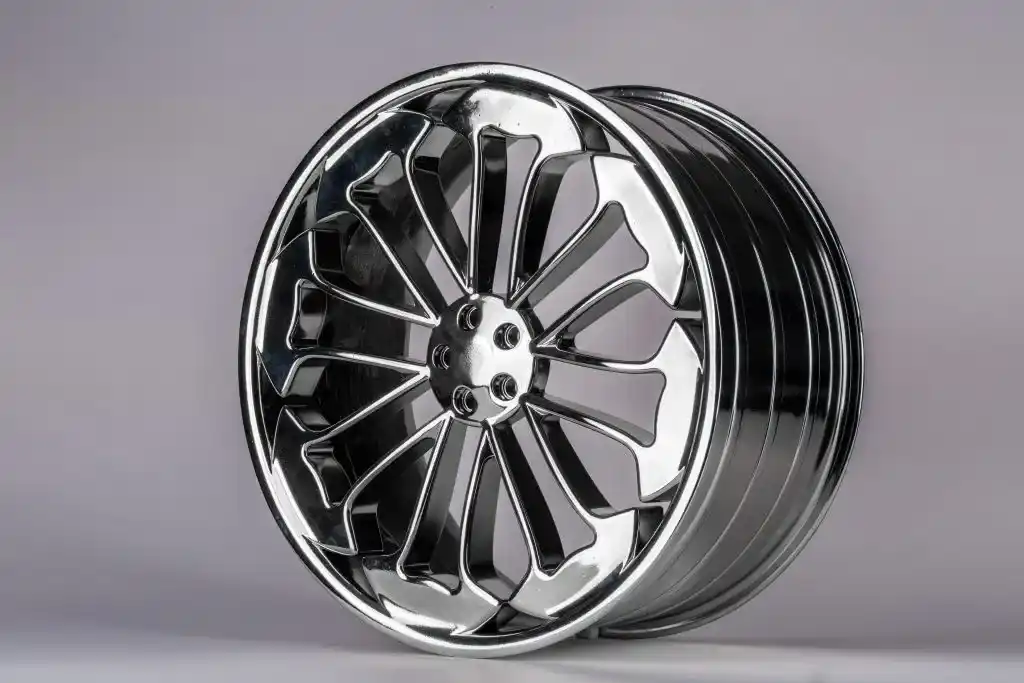 Electroplating of metal car wheel leaving a mirror-like surface. Source: Unionfab
Transcending function, the surface finish assumes a profound aesthetic role. Define the visual impact desired and tactile qualities expected. Materials like polished aluminum or sleek stainless steel can deliver a striking mirror-like luster, while different kinds of finishing methods can add a distinctive touch.
Material Compatibility: Seamless Integration
Delve into material harmony for flawless integration. Explore the fusion of chosen materials with existing components, ensuring coherence and performance. The convergence of, for instance, ABS plastics for interior accents or elastomeric materials for vibration dampening, harmonizes functional synergy and seamless fit.
By navigating these specific considerations judiciously, the selection of an optimal 3D printing material becomes a nuanced fusion of engineering precision and aesthetic artistry. Examples such as reinforced nylon, thermally conductive alloys, polished aluminum, stainless steel, ABS plastics, and elastomers exemplify the diverse palette available to manifest enhanced and harmonious car modifications.

Click to explore Unionfab's wide array of materials. Filter material properties via tags and drop-down menus to find the material that best suits your needs.
Conclusion: Shaping the Future of Auto Customization
The marriage of top 3D printing materials and automotive modification has redefined what is possible. From performance-driven functional components to awe-inspiring aesthetic upgrades, 3D printing has enabled car enthusiasts to dream beyond convention.
As technology continues to evolve, the boundaries of customization will continue to expand, ushering in a new era of automotive excellence where both form and function are seamlessly integrated.
Envisioning the Future of Automotive Customization with Unionfab
Unionfab is joining the integration of advanced 3D printing into automotive modification and customization. By leveraging the latest materials and printing methods, we empower enthusiasts to bring their unique visions to life.
With our suite of finishing services including CNC machining, painting, and plating, we ensure complete integration with the existing vehicle. As 3D printing capabilities continue advancing, Unionfab is committed to pushing the boundaries of automotive customization.

---
FAQs
Q1: Can you provide examples of functional vehicle components that can be 3D printed?
Functional vehicle components that can be 3D printed include interior panels, dashboard elements, air vents, cup holders, brackets, clips, custom grilles, engine covers, intake manifolds, suspension parts, and even exhaust components.
Q2: Are there specific materials known for their high strength and durability in automotive applications?
Yes, materials like carbon fiber-reinforced nylon, aluminum alloys, and titanium are renowned for their exceptional strength-to-weight ratio and durability, making them suitable choices for critical automotive parts such as chassis components, brackets, and structural supports.
Q3: What types of materials are best suited for components located in high-temperature areas of the vehicle, like the engine bay?
High-temperature-resistant materials like heat-resistant stainless steels, Inconel alloys, and ceramic composites are well-suited for components in the engine bay. These materials can withstand the intense heat and thermal cycling common in these environments.
Q4: What types of surface finishes and textures can be achieved with different 3D printing materials for stylish vehicle upgrades?
Different 3D printing materials offer diverse surface finishes and textures. For instance, metals like stainless steel can be polished to a mirror-like finish, while plastics like ABS can be sanded and painted for a customized look. Textured patterns, embossing, and unique designs are also achievable through 3D printing.
Q5: Why should car customization companies adopt 3D printing?
Car customization companies should consider adopting 3D printing technology for car customization and upgrades due to a multitude of compelling reasons:
Design Flexibility and Customization
3D printing offers unparalleled design freedom, enabling car customization companies to create intricate and complex parts that were previously challenging or impossible to produce using traditional methods. This empowers them to offer highly personalized and unique upgrades tailored to each customer's preferences.
Rapid Prototyping and Iteration
With 3D printing, companies can quickly create prototypes and iterate on designs. This accelerates the development process, allowing for faster testing and refinement of new modifications before committing to final production.
Streamlined Manufacturing from Perfected 3D Models
By utilizing the original 3D-printed model, these companies can seamlessly transition from prototype to production. This streamlined process allows them to roll over or manufacture parts based on the perfected 3D model, ensuring consistency, accuracy, and quality throughout the production lifecycle.