This comprehensive guide covers everything you need to know about reaction injection molding (RIM), including the process, parameters, applications, advantages, and more.
Introduction
Manufacturing techniques play an important role in transforming raw materials into quality finished products across industries. One innovative process that has enhanced capabilities for producing complex polymer components is reaction injection molding (RIM).
What is Reaction Injection Molding (RIM)
RIM provides an efficient means to manufacture intricate plastic parts with high precision, repeatability and volume. It works by injecting liquid reactive monomers into a mold where rapid polymerization occurs to form the solid part.
While RIM has existed since the 1960s, it continues to evolve alongside other manufacturing methods like injection molding and 3D printing.
RIM enables high-volume production with consistency and precision. Particularly advantageous for crafting large and intricate parts (like automotive fascia and body panels) that are often unattainable using conventional methods, RIM stands as a strategic solution in modern manufacturing landscapes.
Guide's Objective
This guide aims to provide a comprehensive yet accessible overview of RIM technology. It covers fundamental principles, materials used, process steps, equipment involved, advantages and limitations compared to other techniques, as well as industry applications.
By understanding the core concepts and capabilities of RIM, engineers and product designers can make informed decisions about selecting the optimal manufacturing process for their needs. Whether new to RIM or looking to expand existing knowledge, this guide serves as a valuable reference.
Fundamentals of Reaction Injection Molding
Defining Reaction Injection Molding: The Core Process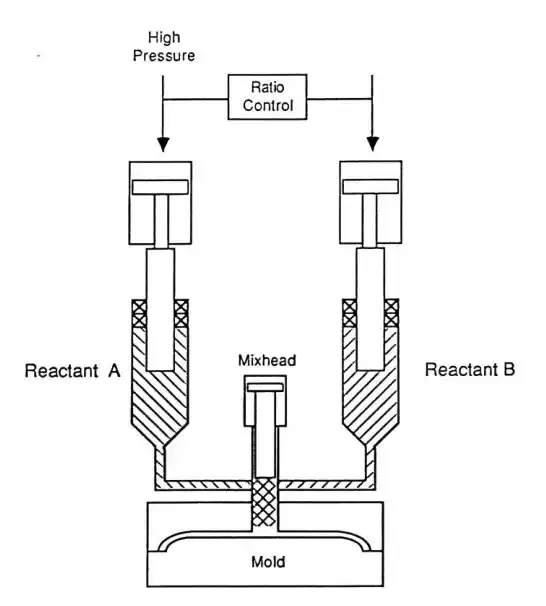 Schematic of a RIM machine.
Source: C.W. Macosko, Fundamentals of R.I.M. (Hanser, 1989)
Reaction injection molding (RIM) is a manufacturing process for producing polymer parts that involves the high-pressure injection of liquid reactive monomers into a mold, where rapid polymerization transforms the liquid into a solid plastic.
Reaction Injection Molding (RIM) represents an alternative to conventional molding methods. Unlike traditional molding driven by mechanical means, RIM relies on precise chemical interactions to shape components.
RIM Materials: Polyols and Isocyanates
The two main liquid reactants used in reaction injection molding (RIM) are polyols and isocyanates.

Reaction injection molding (RIM) basic chemistry.
Polyols are multi-functional alcohols that act as the resin and provide the "backbone" of the plastic. Common isocyanates used include methylene diphenyl diisocyanate (MDI) and toluene diisocyanate (TDI), which supply the reactive groups.
These liquid reactants are precisely measured in the RIM machine's mixing head and thoroughly blended before being injected into the mold. Inside the mold, the polyol and isocyanate groups rapidly react, causing the liquid monomers to polymerize into solid plastic.
Versatile Advantages of Polyurethanes in Reaction Injection Molding
Polyurethanes are the most common type of plastics made through RIM because they offer versatility. By selecting polyols with different molecular structures, properties like strength, flexibility, and impact resistance can be tuned. RIM polyurethanes provide excellent abrasion resistance and corrosion protection. Adding reinforcements can further enhance characteristics.
Reaction Injection Molding Process
The RIM process involves five main steps to transform liquid reactants into a finished plastic part:
Metering and Mixing: This initial stage involves the precise measurement and blending of the liquid reactants, polyols, and isocyanates. The controlled mixture forms the foundation for the subsequent reactions.
Injection: The blended reactant mixture is injected into the mold with precision. This step mirrors traditional injection molding but introduces the unique chemical composition of RIM.
Exothermic Reaction: Within the confines of the mold, an exothermic reaction ensues due to the chemical interaction between polyols and isocyanates. This reaction is pivotal in triggering polymerization, transitioning the mixture into a solid plastic state.
Curing and Solidification: As the exothermic reaction progresses, the polymerization process unfolds, leading to the curing and solidification of the plastic part. This stage is critical in determining the part's mechanical properties.
Demolding: Once the part has solidified and achieved the desired characteristics, it is carefully demolded from the mold. This marks the completion of the RIM process, resulting in a finished component.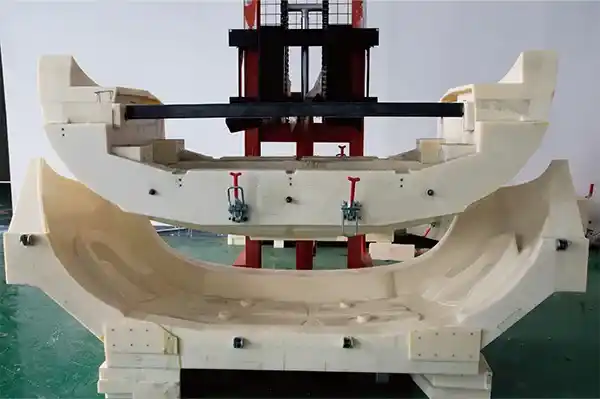 Reaction Injection Molding (RIM) Process. Source: Unionfab
Advantages of Reaction Injection Molding (RIM)
Reaction Injection Molding (RIM) presents a range of distinct advantages that set it apart as a highly versatile and efficient manufacturing process. Let's delve deeper into the key benefits that make RIM a preferred choice:
Diverse Resin Selection: RIM offers access to an extensive array of materials, including polyurethanes and other resins like PC, ABS, and TPU. This diverse resin selection empowers designers to meticulously tailor material properties to precise application needs, encompassing factors like flexibility, durability, chemical resistance, and thermal stability.
Economies of Scale: An intrinsic advantage of RIM lies in its ability to seamlessly accommodate both small and large production runs. This cost-effectiveness renders RIM ideal for crafting intricate, custom-designed components in limited quantities, as well as manufacturing substantial volumes of standardized parts.
Consistency and Reproducibility: RIM excels in delivering consistent and repeatable results across multiple production cycles. This inherent stability proves invaluable for applications mandating uniformity and reliability, ensuring each produced part aligns precisely with desired specifications and stringent quality benchmarks.
Superior Surface Finish: Distinctive for its superior surface finish, RIM yields parts with an impeccable texture and appearance. This often obviates the necessity for supplementary post-molding finishing procedures, streamlining production and diminishing associated costs.
Enhanced Design Flexibility with Overmolding: RIM facilitates the practice of overmolding, wherein distinct materials are seamlessly melded together. This versatility translates into the creation of multifaceted, multi-material components that transcend conventional design boundaries, offering a remarkable spectrum of functional and aesthetic possibilities.
Multi-Cavity Molding and Complex Geometry: RIM seamlessly accommodates multi-cavity molds, enabling concurrent production of numerous parts during a single molding cycle. This efficiency effectively curtails production time and expenses. Additionally, RIM is adept at molding intricate geometries, encompassing undercuts and internal features, enriching design scope.
Cost-Effective Tooling: RIM generally entails lower tooling costs in comparison to traditional injection molding. This accessibility renders RIM an attractive option for prototypes, small-batch production, and budget-conscious product development endeavors.
Incorporating these distinctive advantages, Reaction Injection Molding emerges as a dynamic and versatile manufacturing avenue, bestowing designers and manufacturers with the prowess to engineer innovative, top-notch, and economically viable products tailored to a myriad of industries and applications.
Automotive Industry
Reaction injection molding for car parts. Source: Unionfab.
From bumpers and body panels to interior components like dashboards and door panels, RIM offers the combination of lightweight construction, design flexibility, and structural integrity required for modern vehicles. The reduced cycle times of RIM contribute to the automotive industry's demand for efficiency in production.
Aerospace Industry
RIM's ability to create lightweight yet durable components has made it valuable in aerospace applications. From interior elements like seating and cabin components to exterior parts such as fairings and housings, RIM offers a balance of performance and weight reduction crucial to the aerospace industry.
Consumer Goods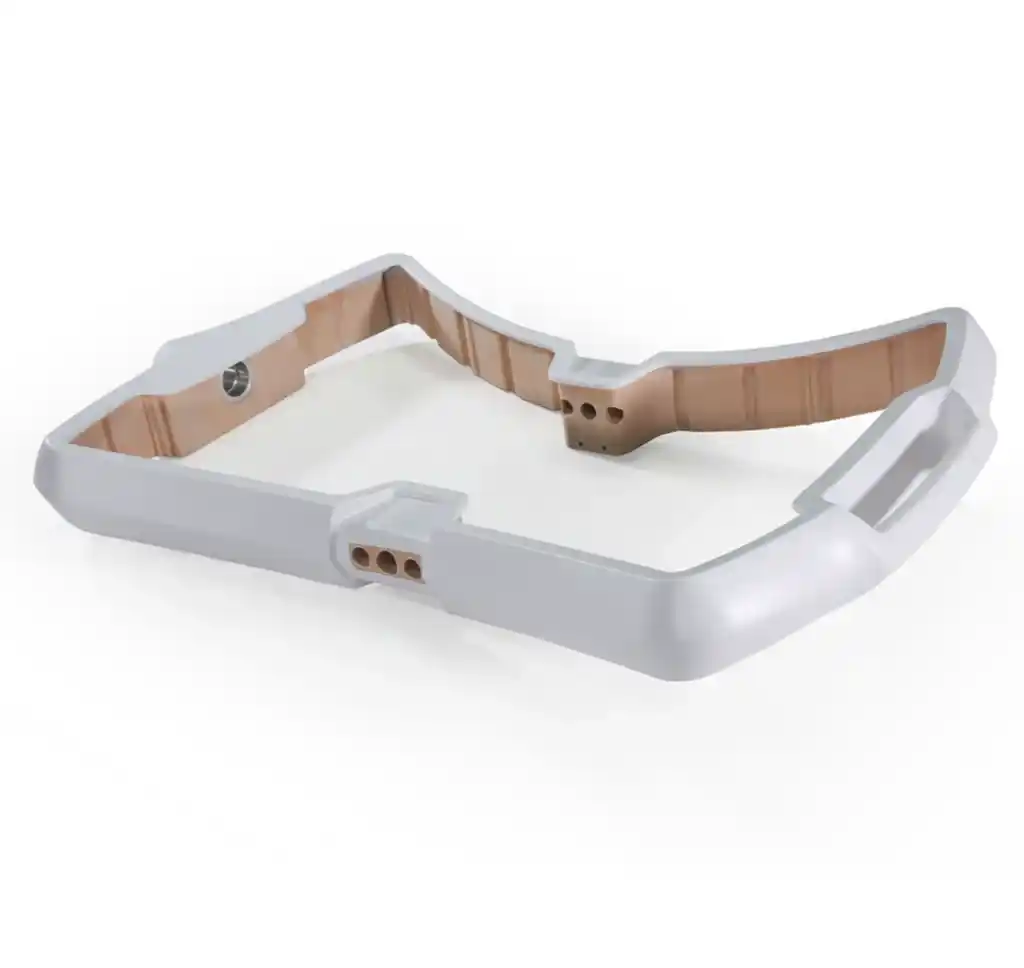 Reaction injection molding for consumer goods. Source: Unionfab.
RIM has infiltrated the consumer goods market, offering a means to produce high-quality products with aesthetic appeal. Items such as furniture, electronic enclosures, and appliance components benefit from RIM's ability to create intricate designs, durable surfaces, and consistent part quality.
Sports & Safety
The sports and safety industry benefits greatly from RIM's ability to create lightweight, yet impact-resistant products. Some key applications include helmets and protective gears. Guards for contact sports can leverage lightweight, rigid RIM components. Precise molding provides anatomical shaping for knee pads, elbow guards and more.
Construction
RIM is ideal for insulated wall and roof panels. Rigid foam cores bond strongly to RIM polymer skins, providing structural strength, insulation and weather-proofing in one panel. Also, in urban planning and transportation infrastructure, RIM is utilized to create noise barriers that mitigate sound pollution.
Tips for the RIM Process
Key Design Considerations for Ideal RIM Parts
Part Geometry and Uniform Wall Thickness: Designing parts with consistent wall thickness is crucial in RIM. Uneven wall thickness can lead to material flow issues, incomplete filling, and uneven curing. Uniform thickness promotes even material distribution, minimizing defects and ensuring structural integrity.
Demoldability and Reducing Residual Stresses: Consider the part's geometry in relation to mold design to ensure smooth demolding. Complex undercuts or tight corners might hinder easy removal. Additionally, the reactive nature of RIM materials can cause residual stresses during curing. Design features that minimize stress concentrations help prevent warping or distortion.
Inserts and Overmolding: RIM allows for the incorporation of inserts, reinforcing materials, or even metal components within the mold. Thoughtful design and proper placement of inserts are critical to achieving strong bonding between the insert and the RIM material. Overmolding, where RIM material is molded over a substrate, demands careful consideration of the substrate's material properties and compatibility.
Technical Specifications of Low-Pressure Infusion Molding:
Compatible Molds: Suitable for resin molds (quantities exceeding 100 parts); ABS molds (quantities exceeding 300 parts); Aluminum alloy molds (quantities exceeding 1000 parts).
Precision Metering: The raw material undergoes precise metering and hydraulic output through a quantitative pump, ensuring a required metering accuracy of at least ±1.5% and preferably maintained within ±1%.
Physical Characteristics: Resembling those of PP/ABS, the product exhibits attributes such as resistance to aging, robust impact resistance, exceptional precision fitting, and straightforward installation and removal.
Injection Pressure: Operates at an approximate pressure of 10MPa. Flow is controlled at a rate of 600g/s.
Standard Work Duration: Ranges from 15 to 30 minutes per part. Demolding temperature can be regulated below 40°C, and for optimal performance, parts are ideally cured for 2-4 hours at 80°C post-demolding.
Tips for Optimizing RIM Manufacturing
Venting and Degassing: Proper venting is crucial to allow trapped air and gases to escape during injection. Inadequate venting can result in defects like air pockets or splay marks. Incorporating well-designed vents and degassing mechanisms ensures a smoother material flow and minimizes voids.
Material Compatibility: Selecting the right RIM material for your application is vital. Consider factors like mechanical properties, chemical resistance, and UV stability. Compatibility between mold release agents and the RIM materials should also be verified to prevent adhesion issues.
Process Monitoring and Quality Control: Implement robust process monitoring and quality control measures. Regularly inspect parts for defects, dimensional accuracy, and surface finish. Adjust process parameters as needed to maintain consistency and optimize results.
RIM vs. Other Manufacturing Techniques
Reaction Injection Molding vs. Injection Molding
While both mold liquid material, RIM differs from traditional injection molding in several ways:
Single-Shot Production for Complex Geometries: RIM can produce larger, more complex geometries in a single shot due to the low viscosity reactants and rapid curing.
Simplicity and Cost-Effectiveness: RIM molds are simpler and less expensive than injection molds due to lower pressures.
Material Range Considerations: However, injection molding offer a wider range of material choice compared to RIM parts.
Reaction Injection Molding vs. Vacuum Casting
RIM enables higher production volumes and reuse of molds compared to vacuum casting:
Higher Production Volumes and Mold Reusability: RIM molds can yield 1,000 shots at fast cycle times, whereas vacuum casting molds are limited to 10-50 pulls.
Capability for Large Parts: RIM can mold large parts of 2000mm in one shot that would be challenging to vacuum cast.
Precision and Detail, and Surfaces: However, vacuum casting can produce highly detailed, smooth surfaces by using 3D printed masters.
Overall, RIM excels at cost-effectively molding large, complex plastic parts in high volumes, though other methods have unique advantages that may suit lower volumes or specialty applications.
Future Trends in RIM: Shaping the Path Ahead
Integration of Sustainable Materials
One of the most significant trends shaping the future of RIM is the increasing emphasis on sustainability. Manufacturers are exploring the incorporation of eco-friendly materials into RIM processes, such as bio-based polymers, recycled materials, and materials with reduced environmental footprints. This move towards sustainable materials aligns with global efforts to reduce carbon emissions and minimize the environmental impact of production.
Customization and Rapid Prototyping
The demand for personalized products is on the rise, and RIM is well-positioned to cater to this trend. Future RIM processes are likely to prioritize rapid prototyping and customization capabilities, enabling manufacturers to produce small batches of highly tailored parts efficiently. This aligns with industries ranging from consumer goods to automotive, where individualized products hold significant value.
Industry-Specific Solutions
As industries become more specialized, RIM is poised to provide tailored solutions to meet unique demands. RIM processes may evolve to cater to specific industry requirements, such as medical devices, electronics, and aerospace. This includes the development of specialized materials, precise process controls, and enhanced quality assurance measures to ensure that RIM-produced parts meet industry standards.
Regulatory Compliance and Quality Assurance
The evolving landscape of regulations and quality standards will shape RIM's future. RIM processes are likely to evolve to meet stricter industry regulations, safety standards, and quality control requirements. This includes not only producing compliant parts but also ensuring transparency in materials sourcing and adherence to environmental regulations.
Additional Resources and References
For further insights into Reaction Injection Molding (RIM), we recommend referring to reputable sources such as the National Science Foundation, Pennsylvania State University, and Open University Foundation.
Need Rapid Prototyping & on-demand manufacturing service?
Unionfab – Your Premier Prototyping Partner
Our expertise in RIM and advanced manufacturing enables us to deliver high-quality parts tailored to your specific requirements.
Whether you require 50 concept models or 5,000 production parts, Unionfab has the experience and capacity to deliver. Our engineers provide guidance to optimize designs for manufacturability and mold simulations to iron out issues before tooling.
Contact Unionfab today to discuss your project and get a free quote for RIM and other services. Discover how our expertise in RIM prototyping and manufacturing can accelerate your initiatives.