This article explores the remarkable advancements in dental care facilitated by resin and 3D printing. From fillings and temporary crowns to models for surgical and orthodontic appliances, resins and 3D printing have revolutionized the field of dentistry.

Introduction

Dental 3D Printing Market Size and Growth Projections
Market Revenue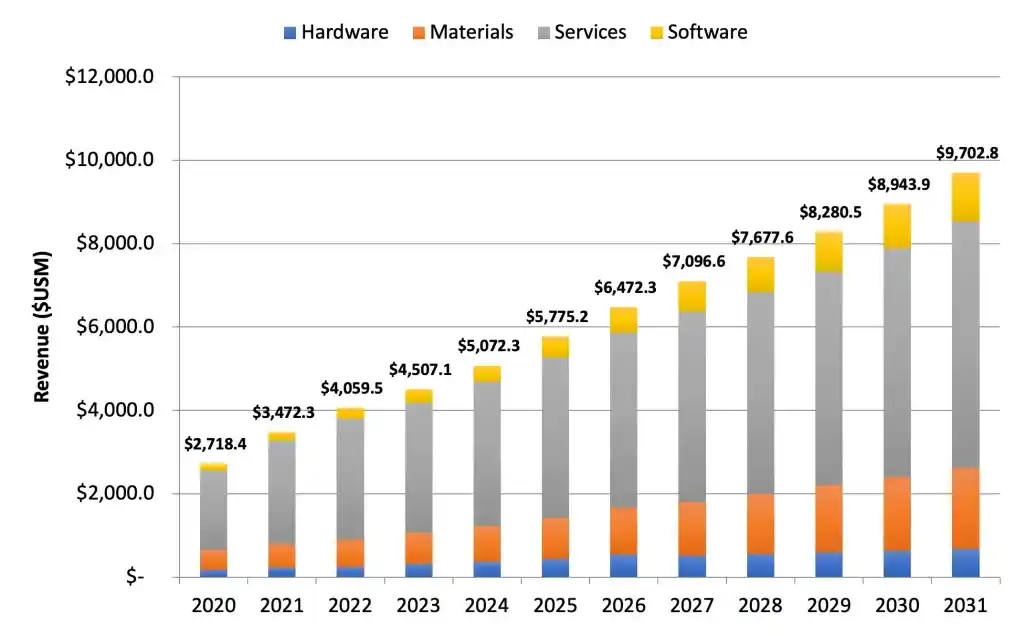 In 2022 the dental 3D printing market generated $4B in revenue, accounting for nearly one third of the overall additive manufacturing market.
The total global dental 3D printing market will grow from an estimated $4B in 2022 to just over $9.7B by 2031.
Market Share
Currently, dental printing accounts for around 30 percent of the total additive manufacturing market.
Key Growth Drivers
Increasing adoption of 3D printing and CAD/CAM technology in dentistry
Rising prevalence of dental diseases
Growing adoption of resins

Types of Dental Materials
Based on materials, the dental 3D printing market is segmented into dental polymers, metals, ceramics, plastics, and other materials.
Polymers

Resins
Thermoplastics
Other Polymers

Composites
Metals
Dental Ceramics

Zirconia
Alumina
Other Ceramics
The resins segment is expected to account for the largest share of the dental 3D printing market.

Resin 3D Printing Technologies in Dentistry

Digital Dentistry: Accelerating Treatment Plans
Digital dentistry and resin-based 3D printing technologies help speed up the treatment planning process. Dentists can leverage these tools to improve patient outcomes and increase treatment efficiency.
Traditional Dental Model Casting Process
Gypsum Restoration – Wax-up – Sprue Fitting – Embedding – Lost Wax – Casting – Grinding – Porcelain – Enamelling – Glazing – Polishing – Sterilization
Digital Alternatives – CNC and 3D Printing
CNC: Scanning – Modeling/CAD – Programming/CAM – CNC Machining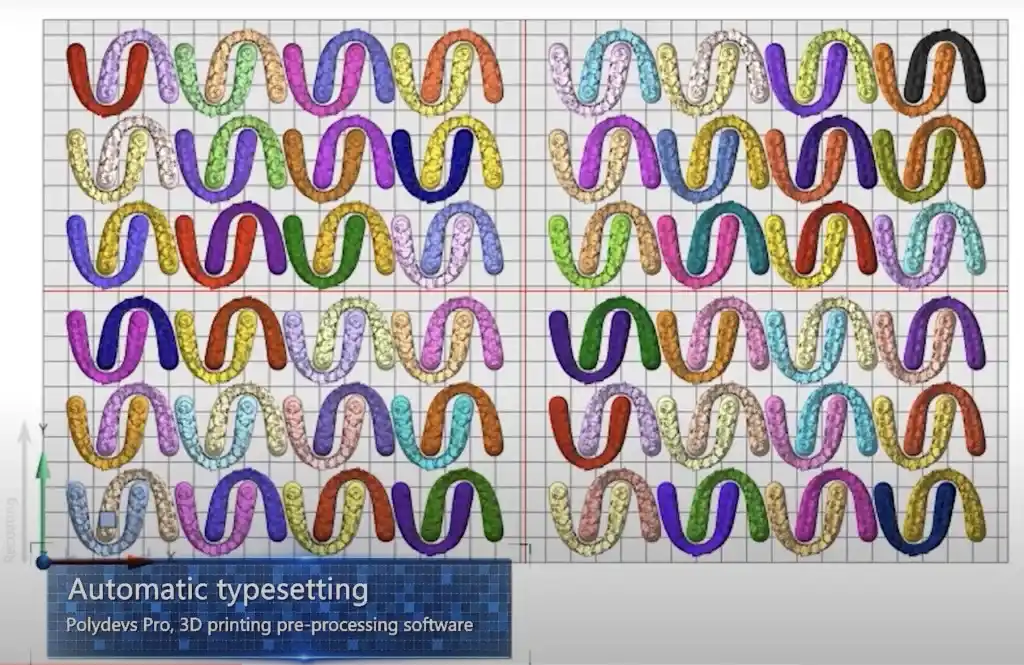 3D Printing: Scanning – Modeling/CAD – Pre-printing Process – 3D Printing

Common Resin 3D Printing Technologies in Dentistry
SLA and DLP are the dominant technologies because the photopolymer resins used provide excellent accuracy and fine details needed for many dental applications like orthodontic models, artificial gums, and surgical guides. The smooth surface finish and biocompatibility of the materials is also ideal for dental use.

Stereolithography (SLA)
This uses a UV laser to selectively cure liquid photopolymer resin layer by layer.
Fine Details: SLA produces smooth, accurate prints ideal for dental models, surgical guides, temporary crowns, and more. It is popular for its fine detail resolution.
Speed and Accuracy: Relatively slow print speed, but highly accurate prints

Digital Light Processing (DLP)
Similar to SLA, but uses a UV projector to flash cure resin layers all at once. DLP offers faster print speeds than SLA, and is good for high throughput of dental products.
Quick Speed: Quick printing as an entire layer cures simultaneously. Faster prints ideal for high volume like models.
Less Fine Details: Layer thickness around 30-100 microns, less fine details than SLA.

3D Printing for Dentistry: the Advantages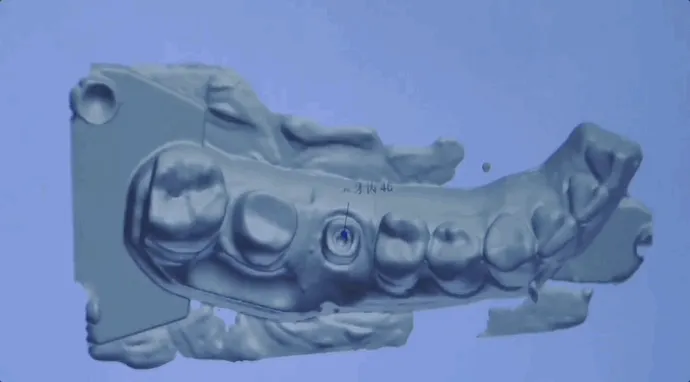 Detailed 3D Models: Digital scans and resin 3D printing create precise, detailed 3D models of a patient's oral structures.
Enhanced Diagnostics: Dentists can thoroughly analyze these models, identifying issues that may have been missed with traditional methods.
Simulated Procedures: Virtual testing and refinement of treatment plans reduce the risk of complications during actual procedures.
Patient-Centric Solutions: Customization ensures prosthetics seamlessly fit the patient's unique oral anatomy, enhancing comfort and functionality.
Streamlined Workflow: Digital design and 3D printing reduce the turnaround time for prosthodontic work, enabling same-day or rapid manufacturing.

3D Printing Applications in Custom Dentistry
With 3D printing technology and specialty resins, dentists can now create highly personalized dental models, tools and prosthetics, such as:

3D Printing Orthodontic Models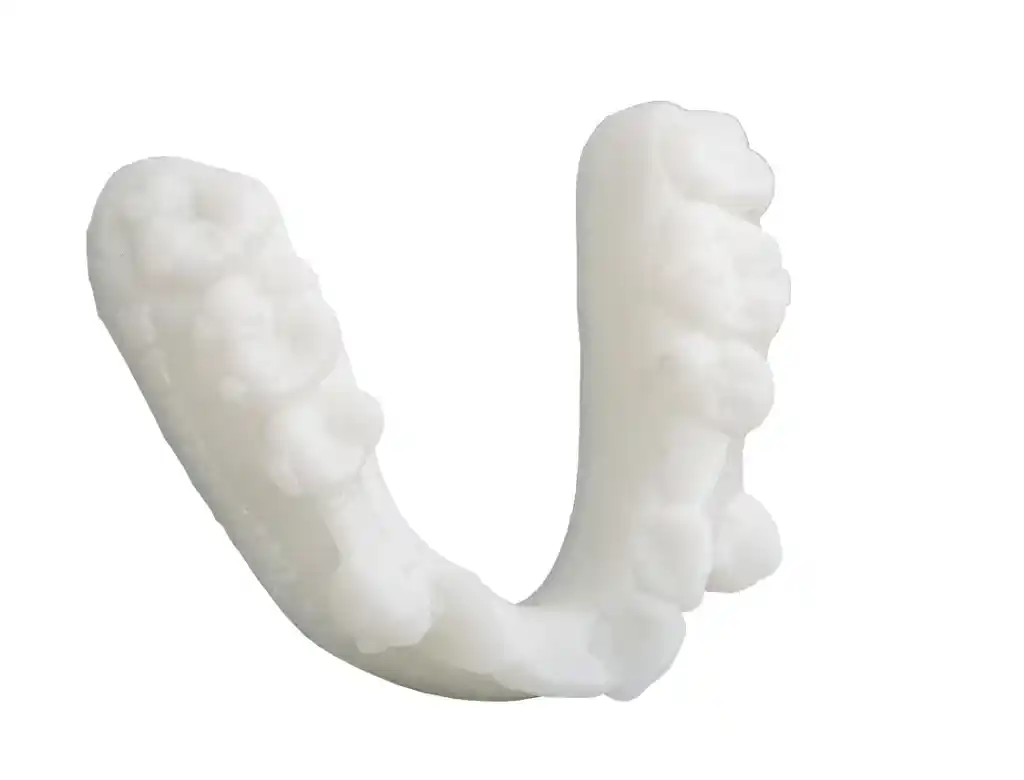 With a layer thickness accuracy of 0.1 mm, 3D printing excels in crafting precise orthodontic models. It can produce over a hundred tooth models simultaneously.
Photosensitive resin materials offer cost-effectiveness, strength, and safety, making light-curing 3D printing an excellent choice for tooth model fabrication.

Implant-Supported Prosthetics for Edentulous Patients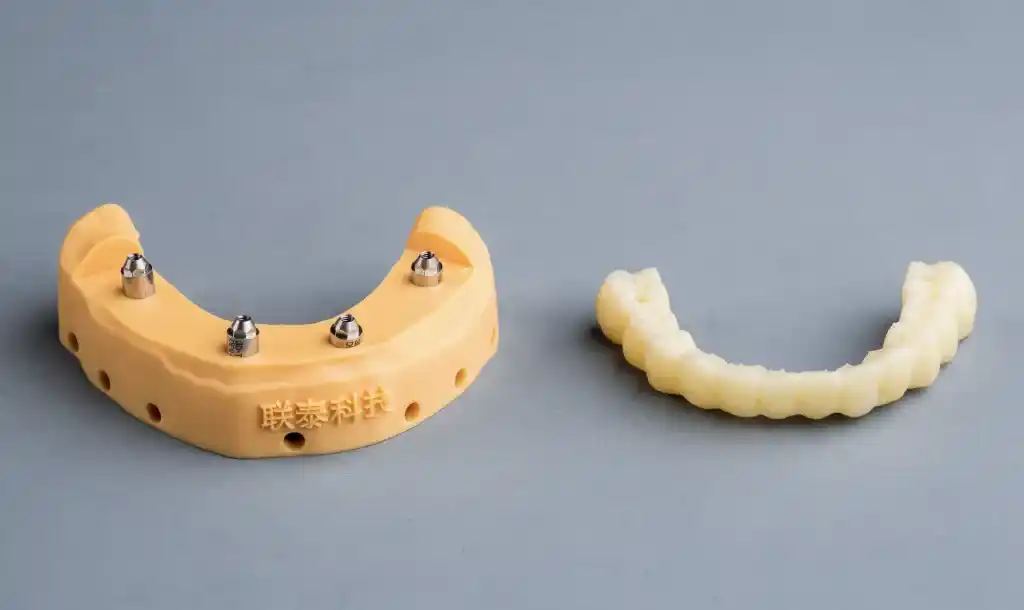 Function: Providing immediate post-surgery teeth for the patient and facilitating precise jaw measurements in the laboratory, all while simplifying the manufacturing process and minimizing material waste.
Material Characteristics: This specialty resin for dental prosthetics exhibits exceptional hardness, wear resistance, stability, and resistance to deformation over extended periods.
Process: Digital Light Processing (DLP)
Printing Time: Completed in just 35 minutes.

Dental Models for Digital Restorations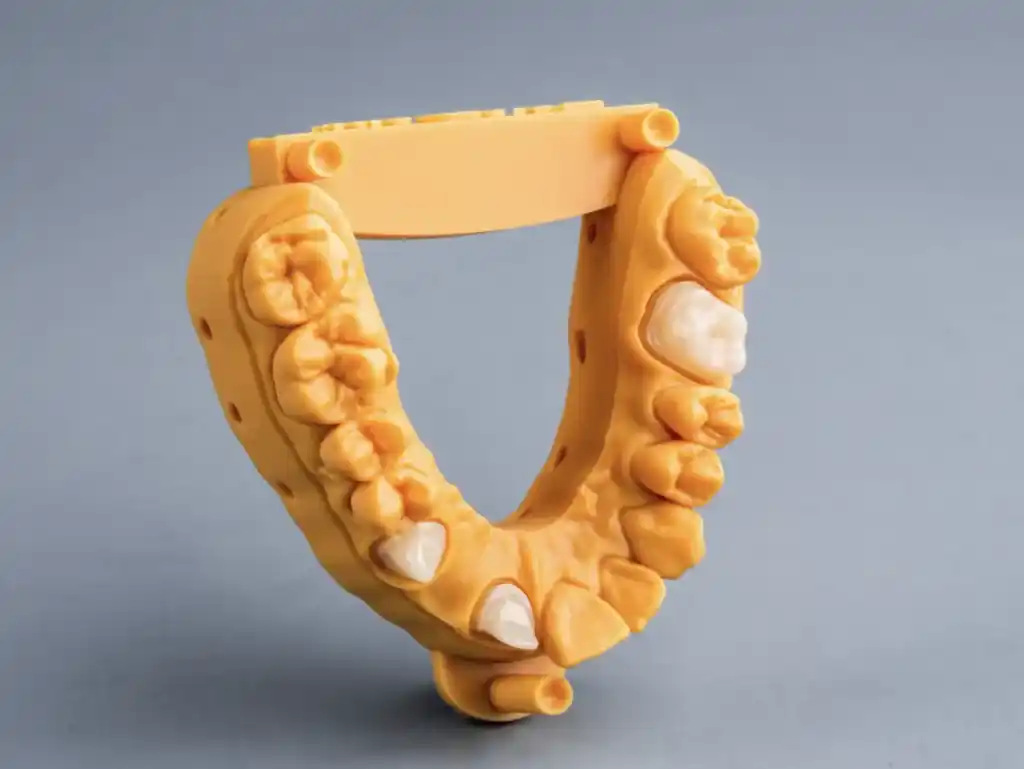 Function: To enhance the efficiency and accuracy of digital restoration.
Material Characteristics: Our specialty resin for dental model boasts high hardness and durability, maintaining stability over time without deformation.
Process: Digital Light Processing (DLP)
Printing Time: Completed in just 35 minutes.

3D Printed Artificial Gums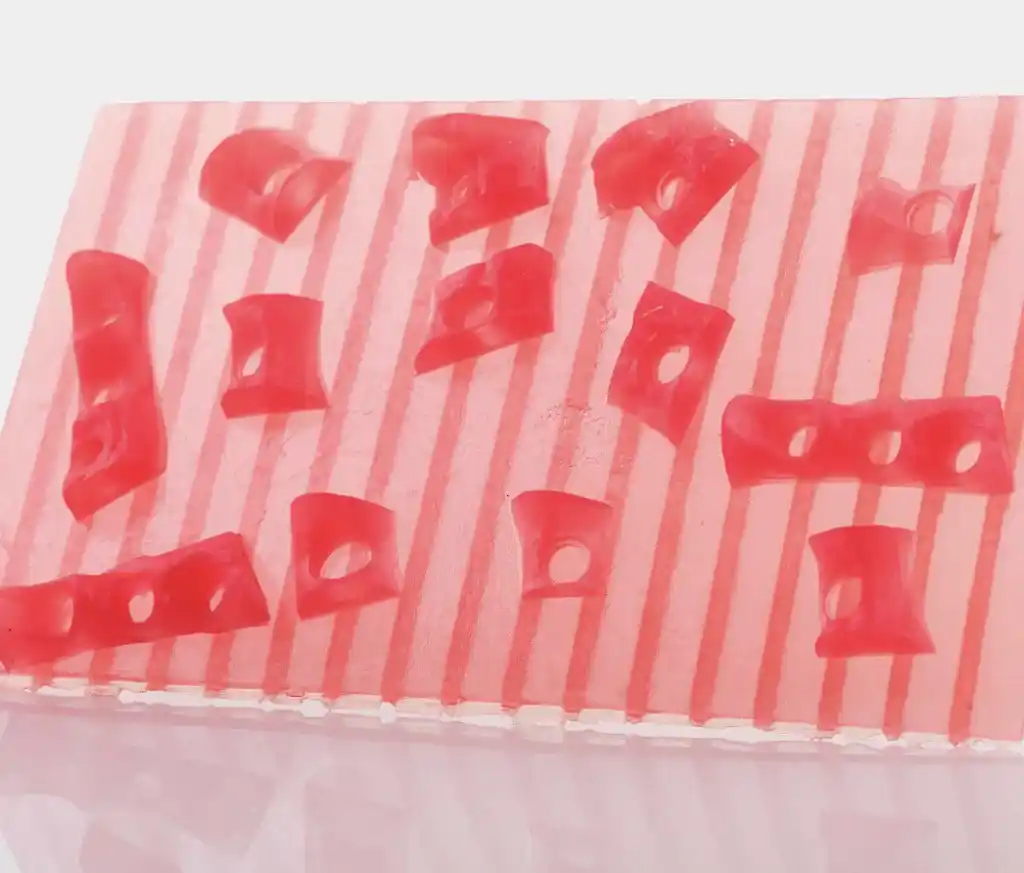 Elastic false gums, produced using 3D printing technology, complement dental models, enhancing their realism and functionality.

3D Printed Wax-Up Brackets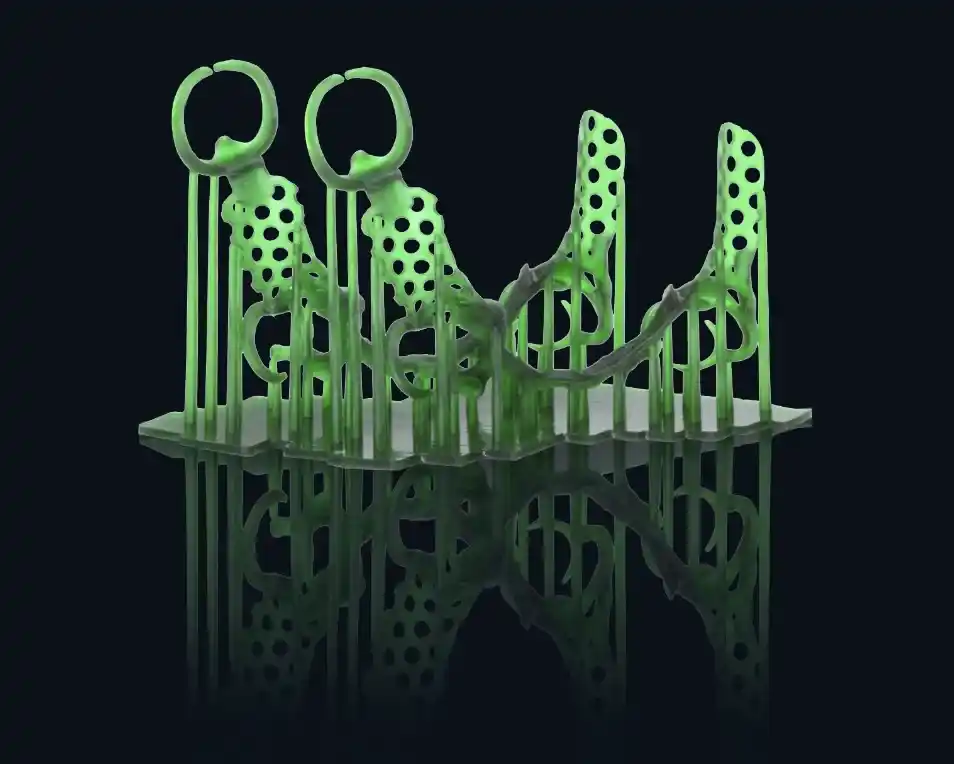 Compared to traditional methods for manufacturing removable partial dentures (RPD), 3D printing offers fast, efficient bracket formation, achieving fine casting with clear advantages.

3D Printed Plant Guides
These nearly transparent guides, known for their biocompatibility, assist doctors in enhancing the accuracy of implant surgery.

3D Printed Temporary Crown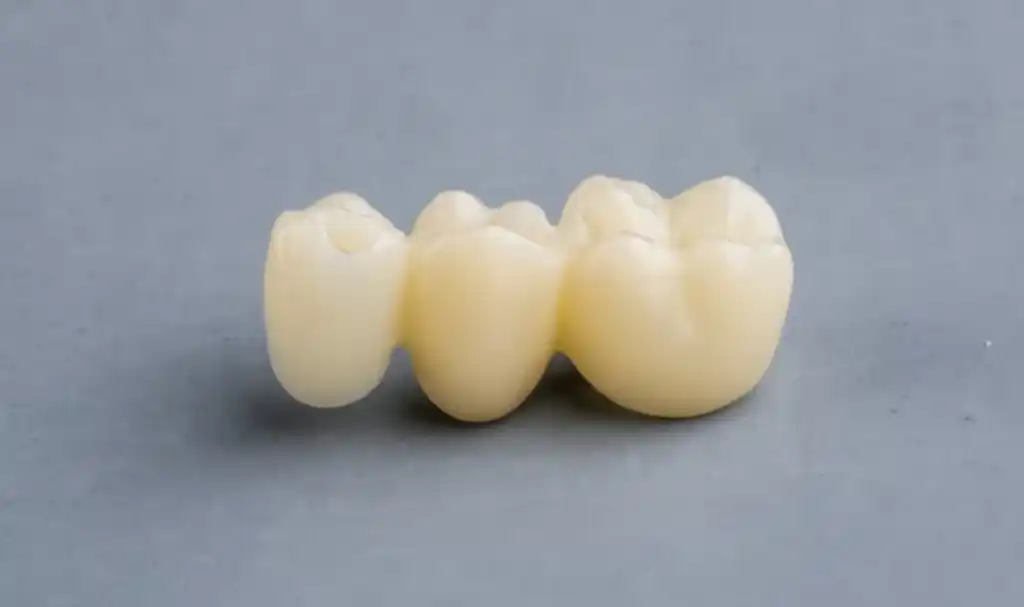 Function: Offers immediate and efficient tooth restoration without the need for traditional resin buildup.
Material Characteristics: Our specialty resin for dental model features high hardness, resistance to wear, stability, and long-term storage without deformation.
Process: DLP
Printing Time: 10 minutes

3D Printed Mouth Trays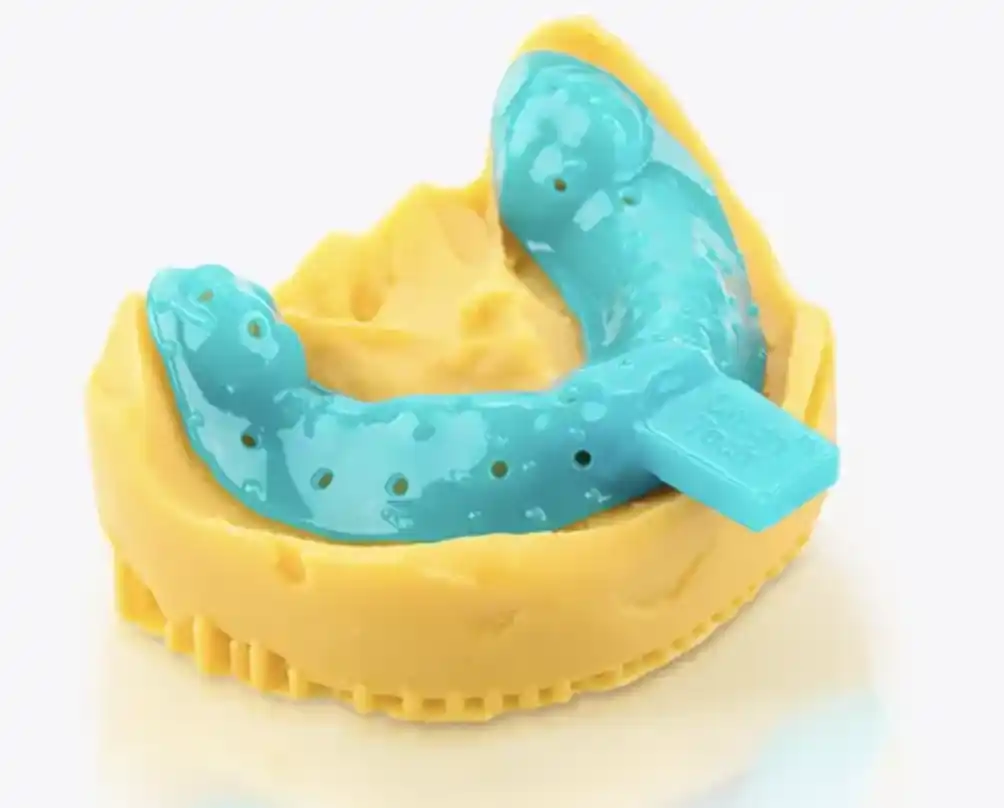 With excellent biocompatibility, these trays enable the precise and personalized printing of trays, benefiting various dental applications.

Unionfab: Transforming Dentistry Through 3D Printing
Advances in 3D printing technology have opened new possibilities across healthcare, and dentistry is no exception.
Unionfab provides 3D printing services to dental professionals, labs, and companies seeking accessible dental 3D printing solutions. We offer complete services including design, 3D printing using the latest technologies, finishing, and shipping.
Our services cover a wide range of printable resin materials tailored to dental needs. Contact Unionfab today to learn how our 3D printing services can benefit your dental solutions.